WARNING: This article contains SPOILERS for Star Trek: Picard season 3, episode 3, "Seventeen Seconds."With a record number of regular appearances in Star Trek: The Next Generation, Star Trek: Deep Space Nineand Star Trek: Picard, Worf, Son of Mogh (Michael Dorn), has no shortage of great episodes to choose from. He was first intended as a minor character who would signify to audiences that the United Federation of Planets had finally set aside their differences with the Klingon Empire. However, when the TNG The production team realized how much screen presence Michael Dorn had, they decided to expand his role further.
Worf's TNG status grew when Denise Crosby departed the role of Lieutenant Tasha Yar. Worf succeeded Tasha as the USS Enterprise-D's Security Chief and became a bona fide fan-favorite. So popular was Worf that he was brought into DS9 in order to boost the profile of the spinoff series. DS9 was a better show for Worf because despite his Klingon heritage being key to his DS9 assignment, it didn't define him in the same way it did in TNG, More recently, Worf's story has continued as he works alongside Commander Raffi Musiker (Michelle Hurd) to avert a Changeling conspiracy in Star Trek: Picard season 3. Here are Worf's ten best episodes from across his three star Trek series.
RELATED: Picard Season 3 Made Raffi Even More Tragic (Can Worf Redeem Her?)
10
Picard Season 3, Episode 3, "Seventeen Seconds"
"Seventeen Seconds" is a great update of Worf's story. The Klingon's more centered view on the universe is presented as both believable character growth and a great source of comedy. Star Trek: Picard's more relaxed Worf gets to deliver comic lines such as "Beheadings are on Wednesdays" while also still striking fear into the heart of his enemies. Worf's new outlook allows him to play good cop to Raffi's bad cop as they interrogate Titus Rikka (Thomas Dekker) and unmask the Changeling conspiracy. Picard season 3, episode 3 is the best Worf comeback that viewers could have hoped for.
9
DS9 Season 6, Episode 7, "You Are Cordially Invited"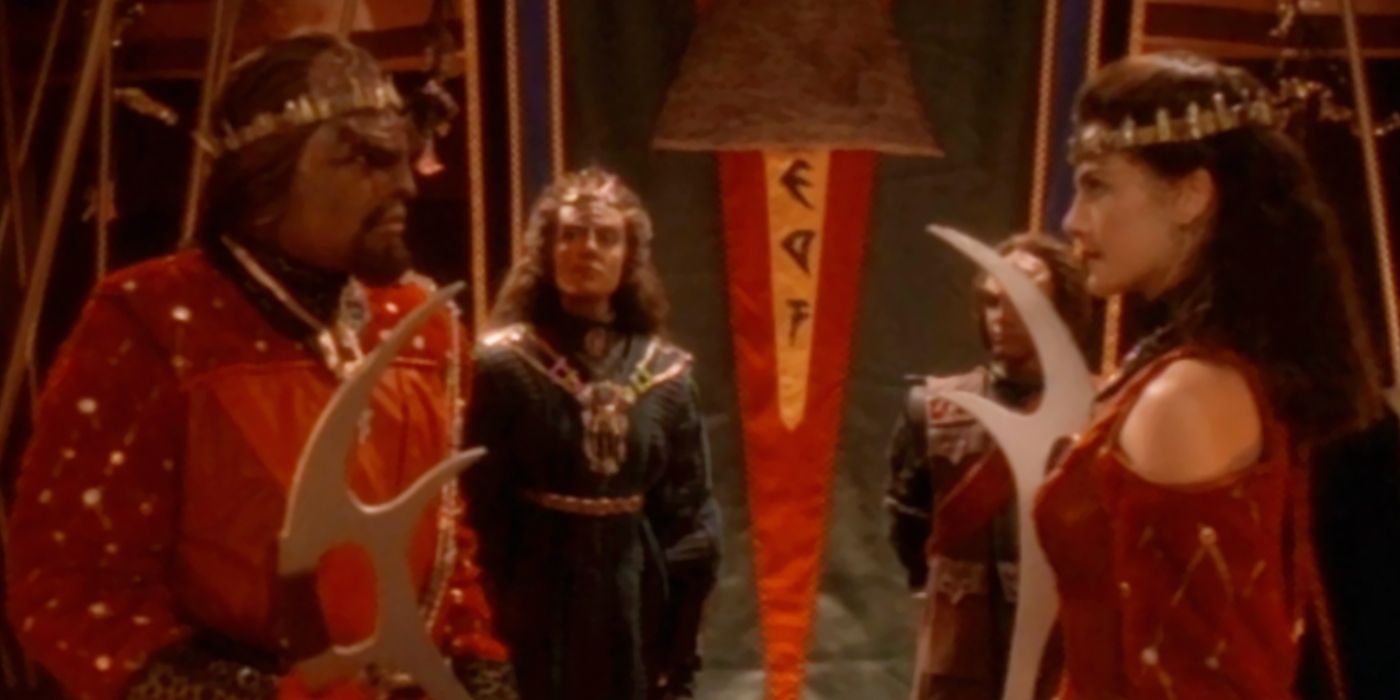 "You Are Cordially Invited" is a classic wedding comedy, with the usual bachelor party traditions and objections to the marriage given a Klingon twist. The Klingon bachelor party is revealed to be a spiritual trial rather than the debauchery expected by Worf's guests. Written by Ronald D. Moore, who wrote many of the best Worf episodes, "You Are Cordially Invited" is a real celebration of Worf's character. Gene Roddenberry intended Worf to symbolize peace between Starfleet and the Klingons, and by the time of DS9 season 6, there's a living, breathing Klingon culture at the heart of star trek, They're no longer the stock villains, and are instead a unique civilization with their own wedding customs and rituals, thanks to Worf.
8
TNG Season 7, Episode 11, "Parallels"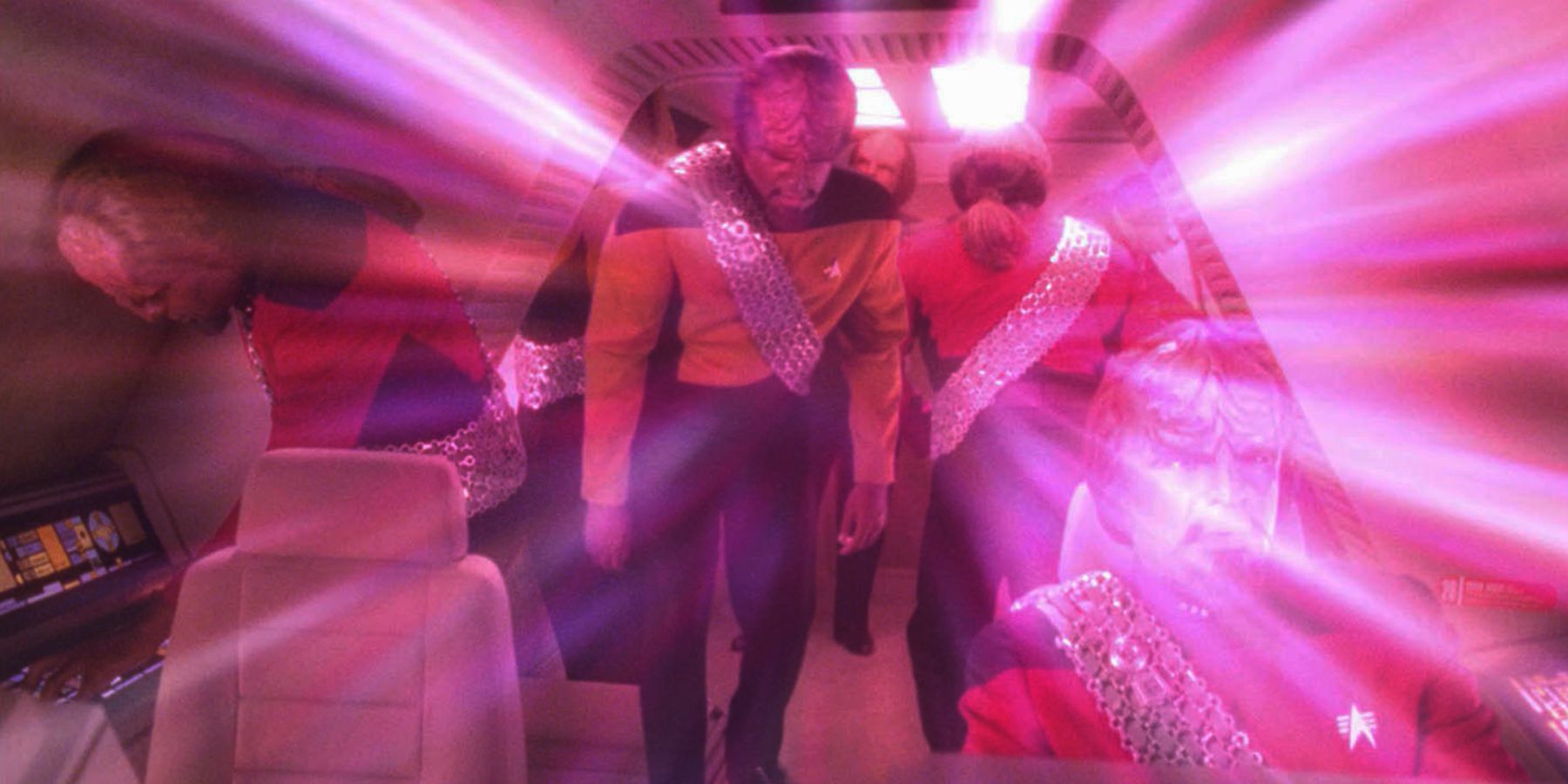 "Parallels" is a rare Worf-centric TNG episode that doesn't revolve around his Klingon heritage, and instead sees Worf splintered across the multiverse. "Parallels" is also incredibly funny and makes good use of Michael Dorn's peerless skills as TNG's best comedy straight man. The scene in which he realizes that he's married to Counselor Deanna Troi (Marina Sirtis) is hilarious, as is the stern look on his face when Riker places a party hat on him at the surprise birthday party. As the Enterprise's Security Chief, it's refreshing to see Worf actually engage in solving a mystery, such as when he and Data realize that Geordi La Forge's VISOR is triggering each quantum shift. It's a great episode that celebrates Worf as a part of the Enterprise crew instead of as a bridge between Starfleet and the Klingon Empire.
7
TNG Season 1, Episode 20, "Heart Of Glory"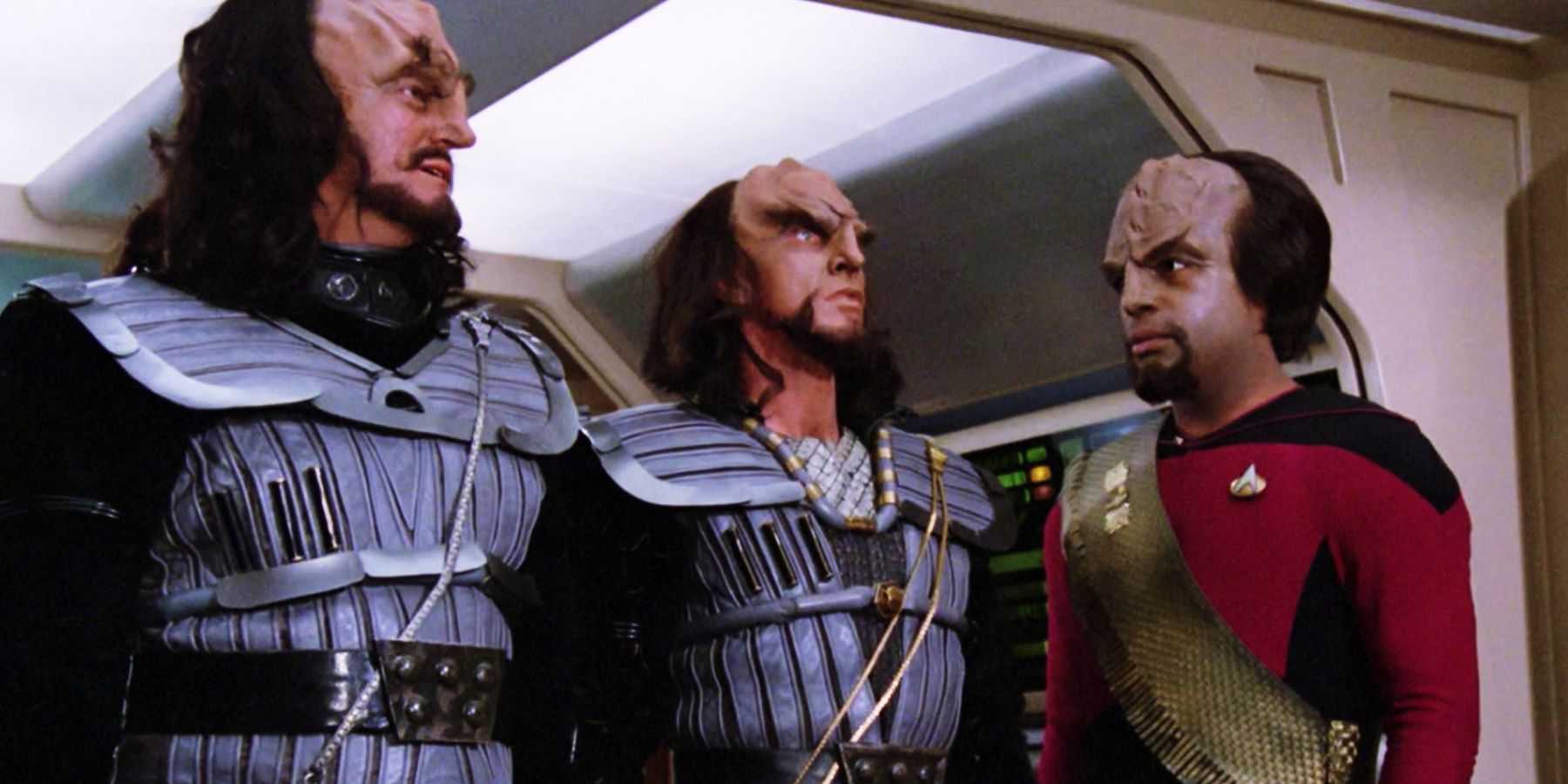 The first Worf-centric TNG The episode, "Heart of Glory" establishes how he has been set apart from his fellow Klingons by his upbringing on Earth. The Klingons rescued by the Enterprise see Worf as soft, while Worf embraces the chance to learn more about their culture. Eventually, he's forced to choose between his loyalty to Starfleet and his Klingon heritage when the rescued Klingons attempt to take control of the Enterprise. The conflict between acting like a Klingon warrior and a Starfleet officer would define many of Worf's best episodes, and the bare bones of those struggles are established in "Heart of Glory".
RELATED: Worf's Comeback Proves Star Trek Is Better With Its Greatest Klingon
6
DS9 Season 5, Episode 3, "Looking For par'Mach In All The Wrong Places"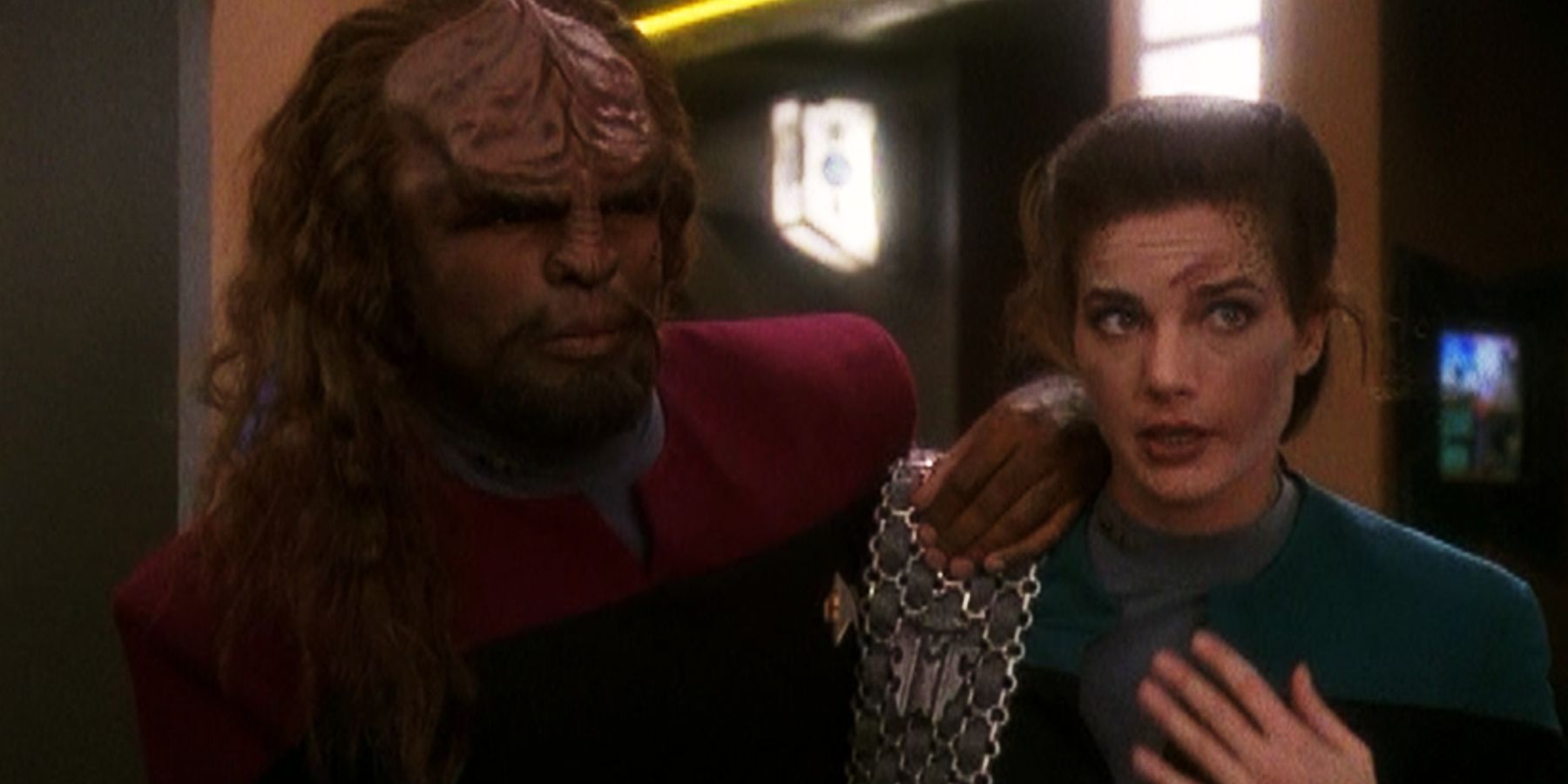 Worf's Klingon problems defined many of his best stories and saw him getting involved in events at the very heart of Klingon culture. What makes "Looking For par'Mach in All The Wrong Places" so great is that it's a comedy episode about Worf and Dax helping Quark (Armin Shimerman) to woo his Klingon ex-wife, Grilla (Mary Kay Adams). It shows many untapped aspects of Worf's character, through the broad comedy of Worf inhabiting Quark's body during a bat'leth fight, to Worf's handwritten Klingon poetry. Best of all, this is the episode that finally brings Worf and Dax together as one of star treks best couples.
5
TNG Season 4, Episode 7, "Reunion"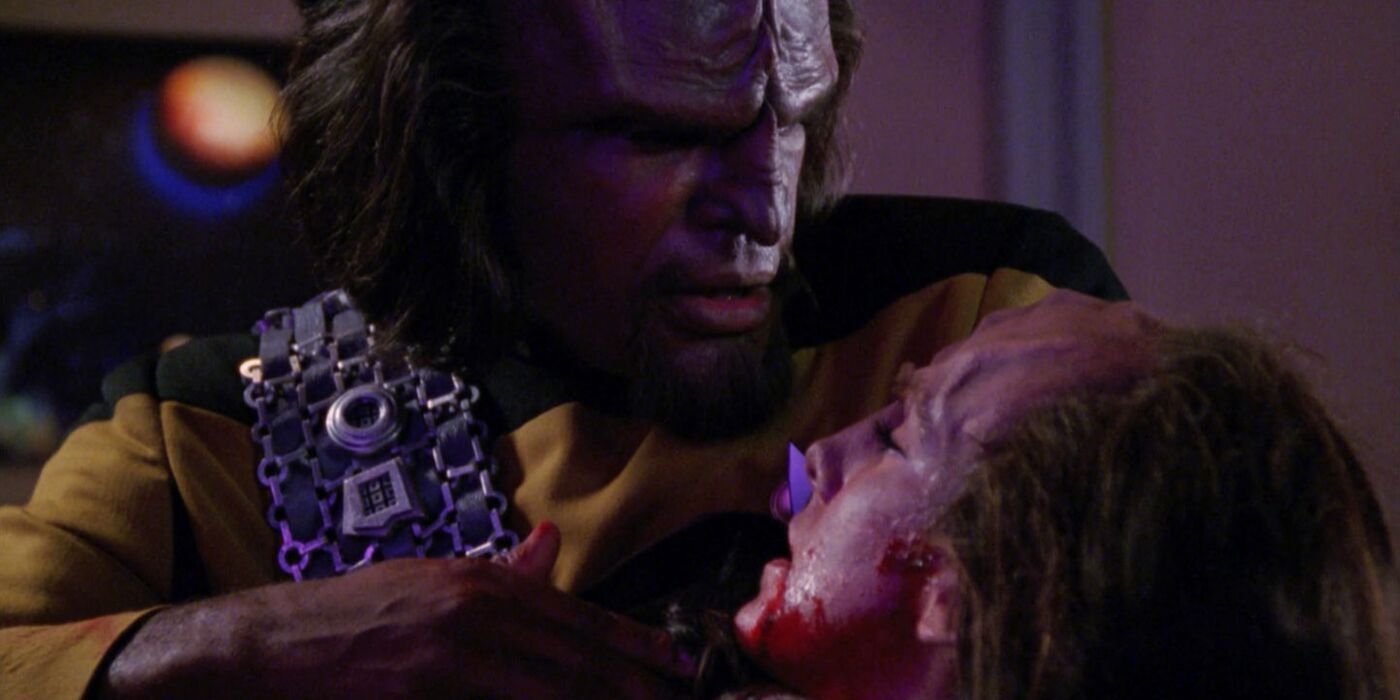 Of Worf's many tragedies in TNG and DS9, the death of his lover K'Ehleyr (Suzie Plakson) is the one that has the biggest impact on his arc. After she discovered the true architects of the Khitomer Massacre, K'Ehleyr was murdered by Duras, son of Ja'rod (Patrick Massett) to cover up the conspiracy. In a shocking moment at the end of the episode, Worf abandoned the peaceful, non-interventionist policies of Starfleet by killing Duras during a duel, in revenge for K'Ehleyr's murder. It wasn't the first time that Worf would choose his true nature as a Klingon over his Starfleet training.
4
DS9 Season 7, Episode 22, "Tacking Into The Wind"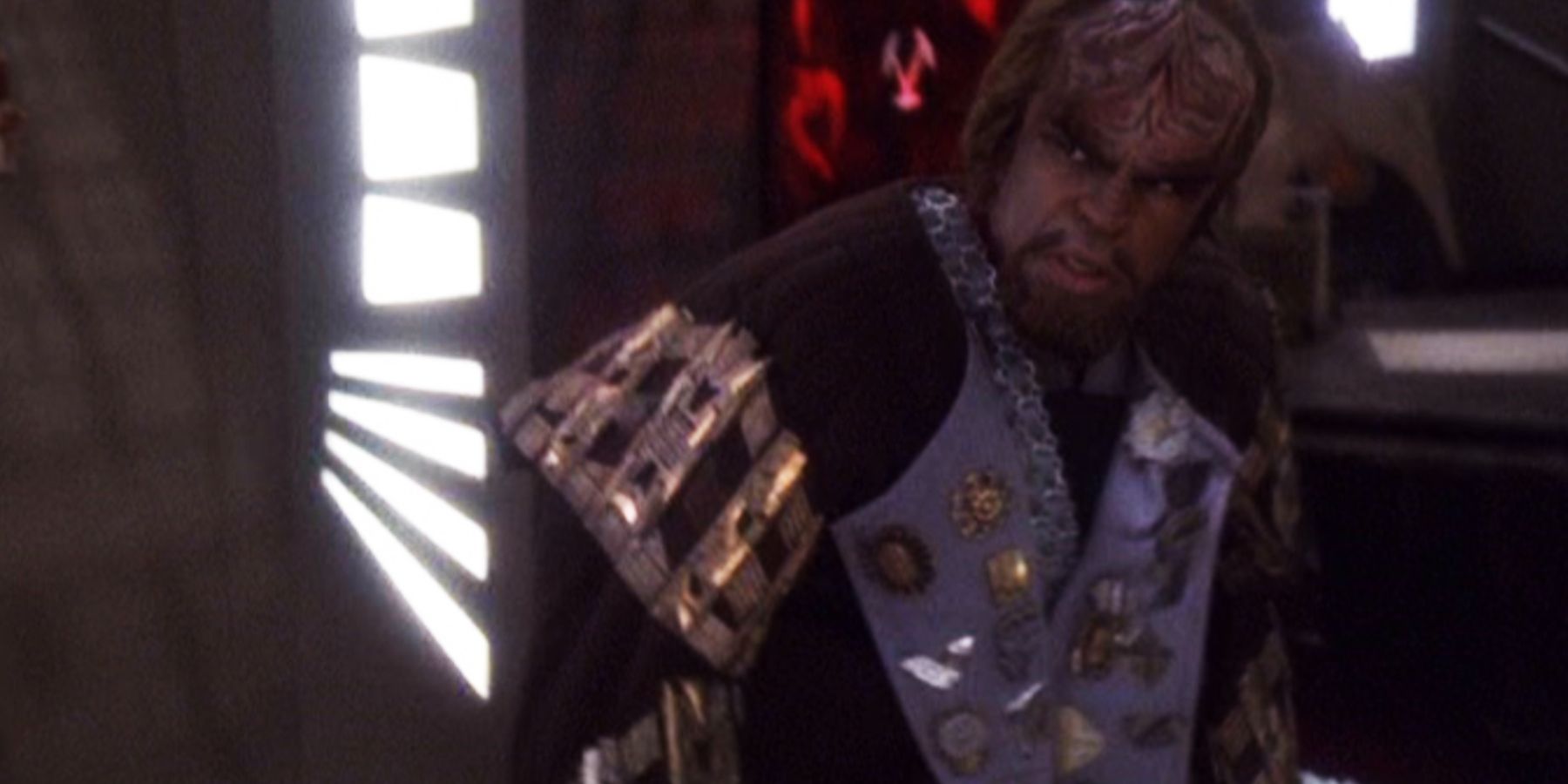 What's interesting about "Tacking into the Wind" compared to "Reunion" is that Worf's murder of his former friend Chancellor Gowron (Robert O'Reilly) is condoned by his captain. Where Captain Jean-Luc Picard (Patrick Stewart) reprimanded Worf for killing Duras in combat, Captain Benjamin Sisko (Avery Brooks) told Worf that Gowron's reckless actions risked altering the outcome of DS9's Dominion War and had to be stopped. After killing Gowron in battle, Worf named General Martok (JG Hertzler) as Chancellor, rather than lead the Klingon Empire into a new era. Worf's use of Klingon customs for the good of the Federation emphasized that he was an outlier in the Empire because he saw the bigger picture.
3
TNG Season 5, Episode 16, "Ethics"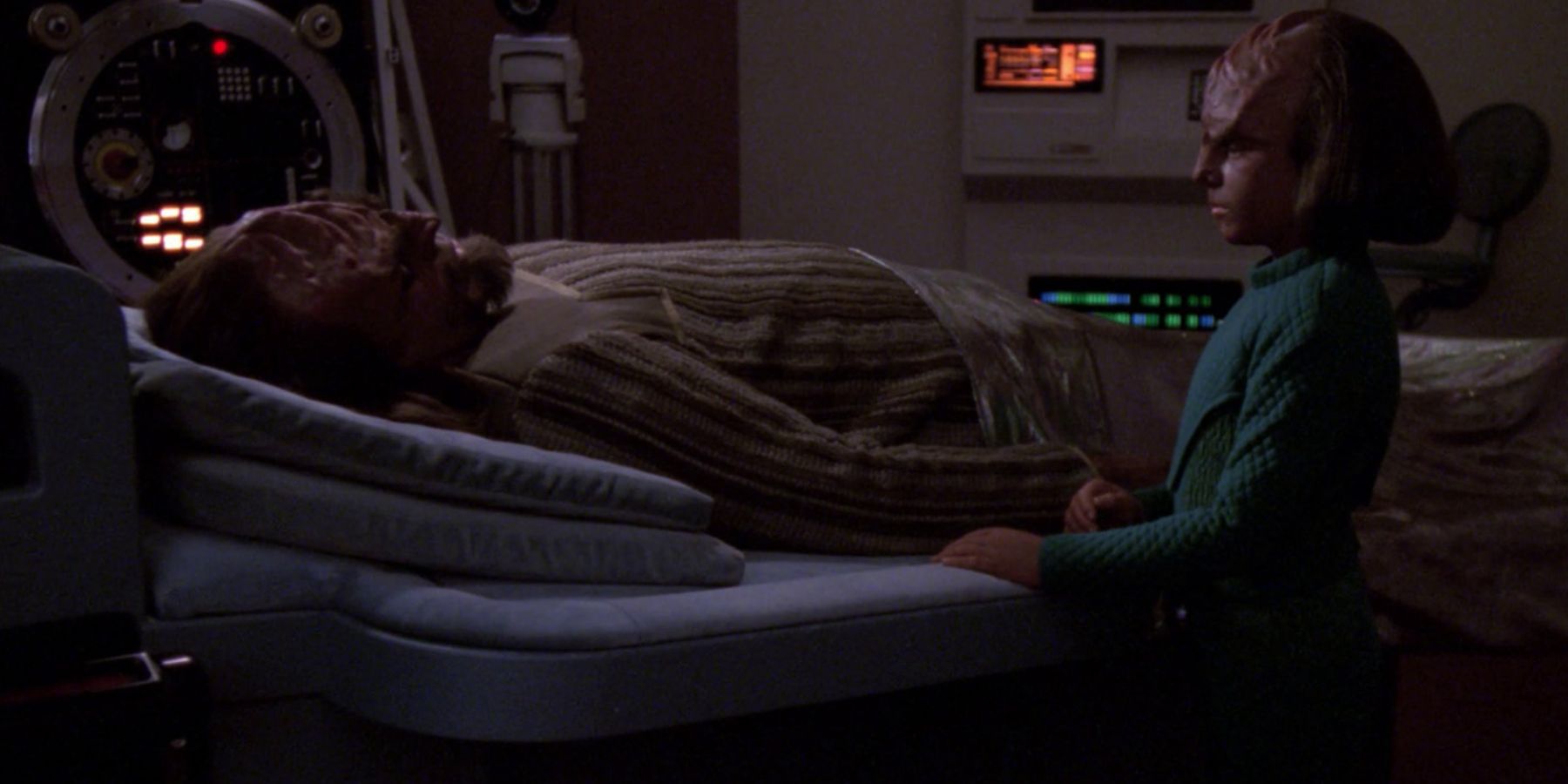 "Ethics" is a fascinating exploration of how Klingons approach disability, that is handled incredibly sensitively. After a freak accident, Worf is paralyzed and considers ending his life because, for Klingons, an inability to stand and fight signals the end of one's life. It's only through realizing the effect this would have on his son Alexander, and his crew mates, that Worf accepts his injuries. "Ethics" is a great showcase for Michael Dorn as an actor, as he does a lot of emoting while being unable to move. It's also a powerful test of Worf's friendship with his friend Commander William Riker (Jonathan Frakes) as Riker grapples with the morality of fulfilling Worf's request for ritual suicide.
RELATED: Picard Season 3 Will Likely Ignore Worf & Troi's Romance
2
TNG Season 4 & 5, Episodes 26 & 1, "Redemption"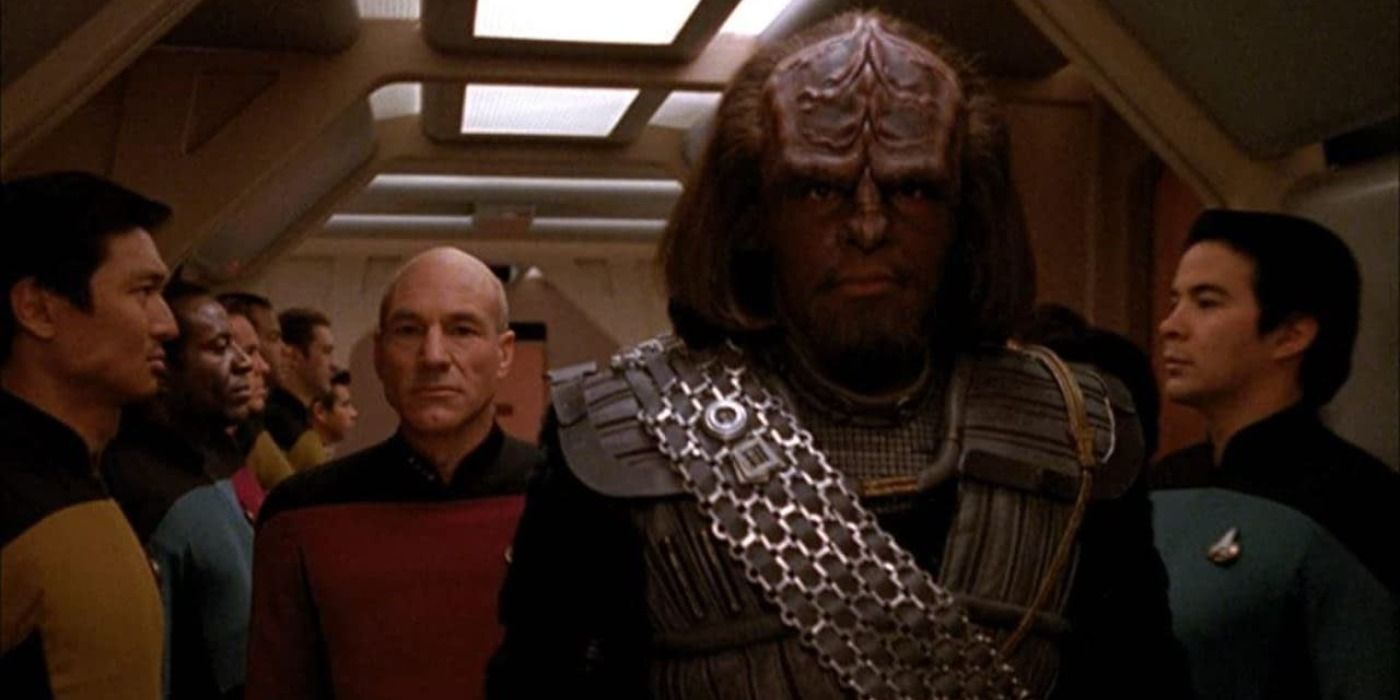 Worf's feud with the House of Duras reached a climax in the TNG season 4 finale "Redemption", in which he left Starfleet to fight in the Klingon Civil War that erupted when Gowron's ascension to Chancellor was challenged. Fighting alongside his brother Kurn (Tony Todd), Worf finally got to experience life as a Klingon warrior. However, in one of Picard and Worf's best-ever scenes, the Enterprise captain spoke admirably of Worf's humanity and reason. Worf uses those skills to quell the in-fighting among Gowron's supporters, and eventually rejects the offer to kill Duras' son, as the young man had done him no harm. It represented the moment that his human upbringing and Klingon heritage finally intertwined.
1
DS9, Season 4, Episodes 1 & 2, "The Way of the Warrior"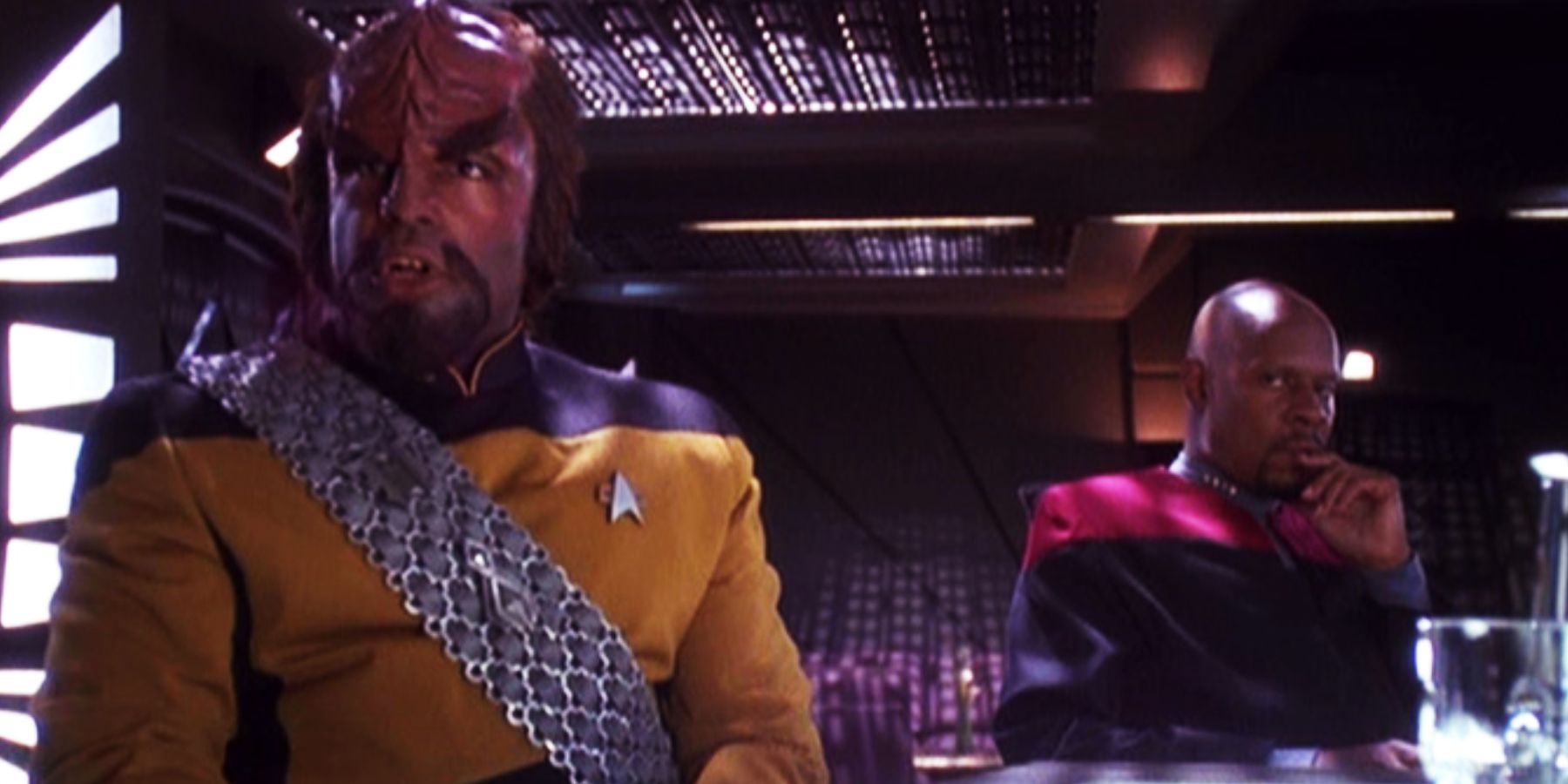 worf joining DS9 was part of sweeping changes implemented by the DS9 production team, and was a mutually beneficial arrangement for the character and the show. "The Way of the Warrior" acts as a second pilot for DS9 that allows Captain Sisko to help Worf find his place among Starfleet again, after the destruction of the Enterprise at the hands of the Duras sisters. It's a neat mirror of Sisko's own loss of direction in the DS9 pilot, and it's great to see Sisko use his experience to guide the conflicted Klingons through their latest crisis.
"The Way of the Warrior" perfectly flips "Redemption" by having Worf refuse to take part in the Klingon invasion of Cardassia Prime. In doing so, Worf rejected the Klingon Empire on his own terms, a powerful act given that he had previously sacrificed his lover, and his father's honor for the Empire. It was just the beginning of Worf's post-Star Trek: The Next Generation arc in Star Trek: Deep Space Nine that turned Worf into a more complete character, and started the process of self-improvement that created the older, wiser, balanced Worf of Star Trek: Picard season 3.
MORE: Star Trek Generations Failed Worf (Despite One Great Scene)
Star Trek: Picard Season 3 streams Thursdays on Paramount+.