A number of Battle and Marking Flags are found in the Village of Calamity level of Wo Long: Fallen Dynasty for players to restore their health.
The Village of Calamity represents the first level of Wo Long: Fallen Dynasty, teaching players important mechanics like the Flag system as areas to rest and recover health in specific locations. Like bonfires from the Dark Souls series, Flags are places of sanctuary for players making progress throughout any level. However, Wo Long: Fallen Dynasty takes a unique approach to these traditional checkpoints, dividing them into two categories that provide different benefits to the player.
Within the Village of Calamity, there are six flags scattered throughout the areacalled battle flags and Marking Flags, Battle Flags function like players would expect, acting as a save point and restoring Wo Long: Fallen Dynasty's Dragon Cure Pot healing ability. This Flag also respawns enemies on the level, except for bosses, and increases the player's Fortitude Rank by one point if they plant these banners manually. On the other hand, Marking Flags don't restore the Dragon Cure Pot or allow rest, but they set the player's health back to max and affect Fortitude the same way without resetting enemies.
Related: Wo Long: Fallen Dynasty – Best PC Settings
Where To Find Every Flag Location in Wo Long: Fallen Dynasty's Village of Calamity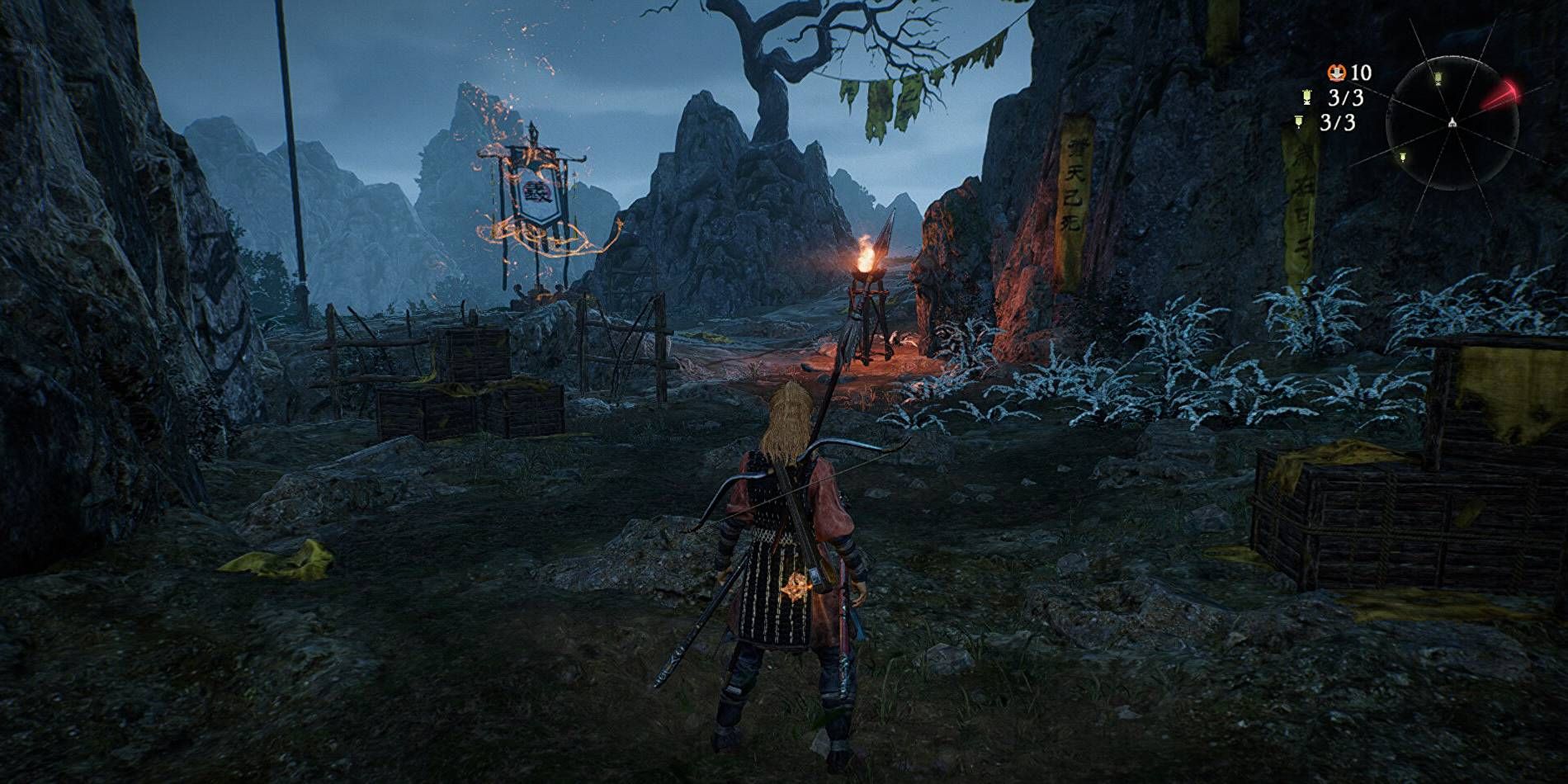 Players should note that Battle Flags are the only Flag type that serves as spawn points for their character should they be defeated during a level. While Marking Flags are still vital for healing deep into the exploration of the Village of Calamity, players should prioritize finding Battle Flags due to their added advantages. Battle Flags are great places to rest when playing with friends. Wo Long: Fallen Dynastyas every player has the chance to rest and recover at these spots.
These Flag locations are listed in the order players can progressively find them within the Village of Calamity.
| flag | location |
| --- | --- |
| Battle Flag #1 | Right past the area where players spawn, over a barricade on the left side of the main path. Following the path leads toward a ledge that can be jumped over a house, where the Flag sits guarded by a small group of enemies. |
| Marking Flag #1 | Directly from the first Battle Flag, players can find this Marking Flag beyond the soldier and the ledge leading forward atop a rock along the same route. |
| Marking Flag #2 | The region of flat ledges near the first Marking Flag directs players to an area with four soldiers below, who guard the Battle Flag at the end of the canyon under the rocky platforms. |
| Battle Flag #2 | Moving from Marking Flag #2 on the way closer to Wo Long: Fallen Dynasty's difficult first boss, up a larger slope, showing this Battle Flag directly in front of players. |
| Marking Flag #3 | The path from Battle Flag #2 puts players in combat with several demons before a ledge they must climb. A raised platform on the way forward from this ledge hosts the Marking Flag, blocked by a few guards. |
| Battle Flag #3 | The only Battle Flag that players will need to plant themselves. They can plant it at a particular spot on a ledge situated in the path past the first Champion enemy. This Battle Flag remains the last resting place before the first boss in Wo Long: Fallen Dynastyso players should be prepared for a tough fight soon after reaching it. |
More: Wo Long: Fallen Dynasty – How To Beat Zhang Liang (Boss Fight)
Wo Long: Fallen Dynasty

Platform:

PlayStation 4, PlayStation 5, Xbox One, Xbox Series X/S, Microsoft Windows, Steam

Released:

2023-03-03

Developer:

Team Ninja

Publisher:

Koei Tecmo

Genre:

Action RPG, Hack and Slash, Soulslike

Multiplayer:

Online Co-Op

Engine:

Proprietary Team Ninja Engine

ESRB:

m

Summary:

Wo Long: Fallen Dynasty is a new action-soulslike game from Team Ninja, the developers of Ninja Gaiden and Nioh. Set during the Later Han Dynasty of the Three Kingdoms, players will create their own military soldier battling within a great war, trying to survive and repel the Yellow Turban rebellion. Inspired by ancient Chinese mythology and history, players will learn to master various weapons and magic spells as they face legendary soldiers and powerful and monstrous beasts on their quest. To even out the difficulty, players can choose to face foes at their level for a more careful path or face greater foes for even greater rewards.

Mode:

Single-player, Multiplayer