One of the more shocking moments of the Royal Rumble was Brock Lesnar's early elimination. The tirade he went on afterwards landed him in hot water.
The vibe around Brock Lesnar WWE has always been that he does and says whatever he wants, which was apparently the case following his early elimination at the Royal Rumble. The Beast Incarnate did what he always does at the over-the-top-rope battle royal. Eliminating mid-carders left and right without a care in the world. There was a suplex here, a clothesline there, and it was all business as usual on the road to WrestleMania, At least until Bobby Lashley caught him off guard, sending him crashing to the floor. Brock Lesnar threw a fit outside the ring, throwing the announce desk table topper into the ring and slamming the steel stairs down onto the table.
When hearing that the former UFC Champion had some backstage heat following the Royal Rumble, it would have been safe to assume it was over one of those two unplanned spots. That isn't the case, however. Fightful Select is reporting that "…the spot that seemed to get Lesnar a bit of heat was an unplanned situation when referee Eddie Orengo was thrown over the barricade. We're told that initially, it looked like he possibly sustained a foot injury, but we' re not sure of the status of Orengo. He had to sell to the back, and we're told missed an integral spot towards the end of the match."It's worth noting that Fightful notes some at ringside"weren't prepared for the stairs spot,"but that isn't what got Lesnar heat. As for Brock being in trouble, one source told Fightful that "[h]e's not going to get in trouble.,
Related: Don't Sleep On Bronson Reed Winning Elimination Chamber Match
Brock Lesnar Vs. Bobby Lashley At WrestleMania 39 Is Full-Steam Ahead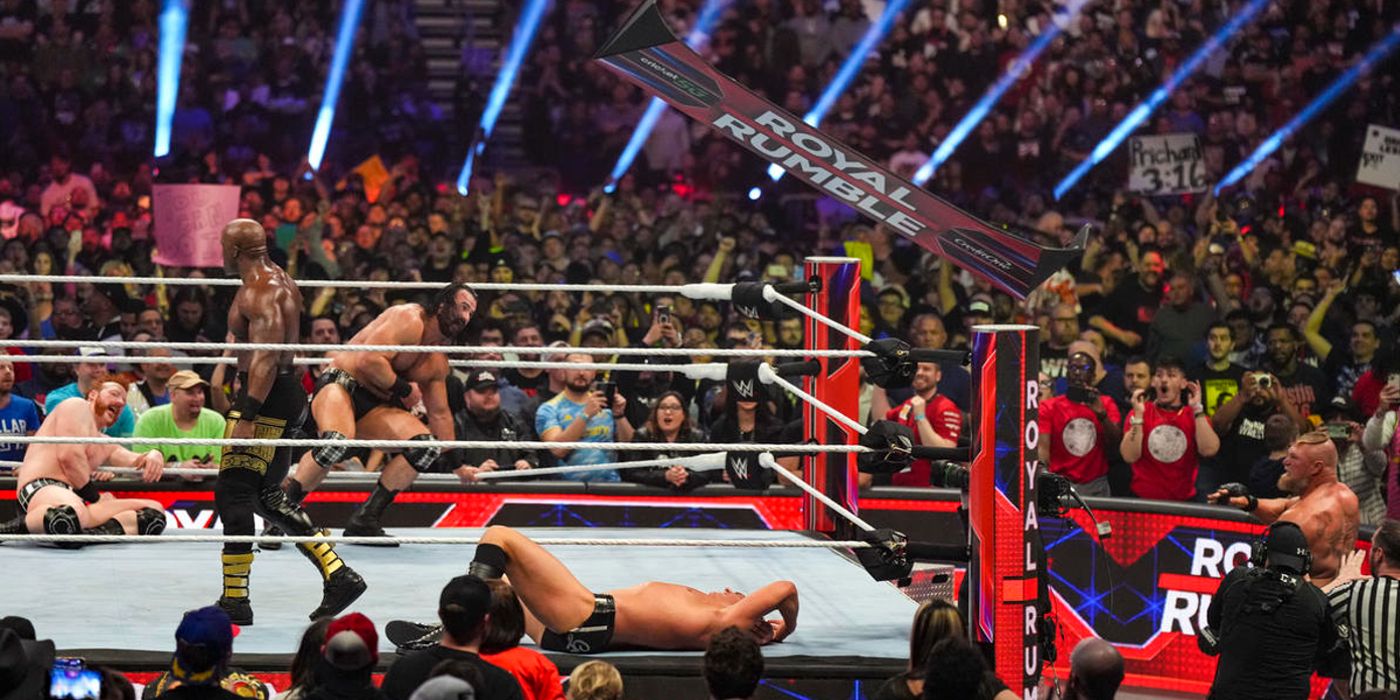 Whenever WWE inserts Brock Lesnar into a match like the Royal Rumble or money in the bank, there's a feeling that he could very well win it. Even if he's not supposed to, or it appears to be another wrestler's time. This is a Pavlovian response after years of Vince McMahon's booking. Fans hear Lesnar's music hits and automatically assume he's about to win whatever battle royal he's about to enter. Bonus points if that battle royal leads to a main event match against Roman Reigns as a Big Five premium live event. So, despite the ringside carnage, seeing Lashley eliminate Lesnar was a relief in an odd sort of way.
Those two seem headed for a final confrontation at WrestleMania 39, and that's been their direction since To install Crown Jewel. Triple H has kept his foot on the gas for this one, never deviating from the final goal of a match between Lashley and Brock Lesnar in Hollywood. It's probably not going to be an instant classic, but fans won't have to slog through another Lesnar Vs. Reigns is the main event, either, so it's important to take the good with the bad. There's also a chance that the pair could strive to overdeliver after their match in Saudi Arabia left a lot to be desired.
Here's to hoping that Eddie Orengo is alright after Lesnar tossed him over the barricade at the To install Royal Rumble. It was so gnarly looking that the spot looked planned, and it's deplorable that Lesnar took liberties with a man who is listed at 5-foot-9 and less than 170 pounds. Orengo did post a photo of himself backstage at the Rumble on Twitterwhere he appeared to be in a good deal of pain. WWE's next premium live event is the Elimination Chamber set to take place on February 18.
Next: WWE Doesn't Need The Rock Or Stone Cold To Make WrestleMania 39 A Success