Sugarcane grilled prawns at Vyana Flavor of Nature | Photo Credit: Special Arrangement
The Vyana Flavors of Nature restaurant, located at JP Nagar in Bengaluru, takes inspiration from the Japanese philosophy of Wabi Sabi, which values ​​beauty in imperfection and simplicity. The restaurant's ambiance reflects this philosophy perfectly with its chic interiors and handcrafted decor made by local artisans.
Derived from Sanskrit, Vyana translates to "outward-moving air." As soon as you step inside, the delightful and airy ambiance lives up to its name, setting the tone for a dining experience that is only enhanced by the added attraction of an rooftop al fresco space.
The Wabi Sabi philosophy is exemplified through the handcrafted decor that embellishes the space, including unique and imperfect pieces such as the ceiling light fixture crafted by local artisans using cane and the indoor dining table that was not mass-produced; enhancing the charm of the restaurant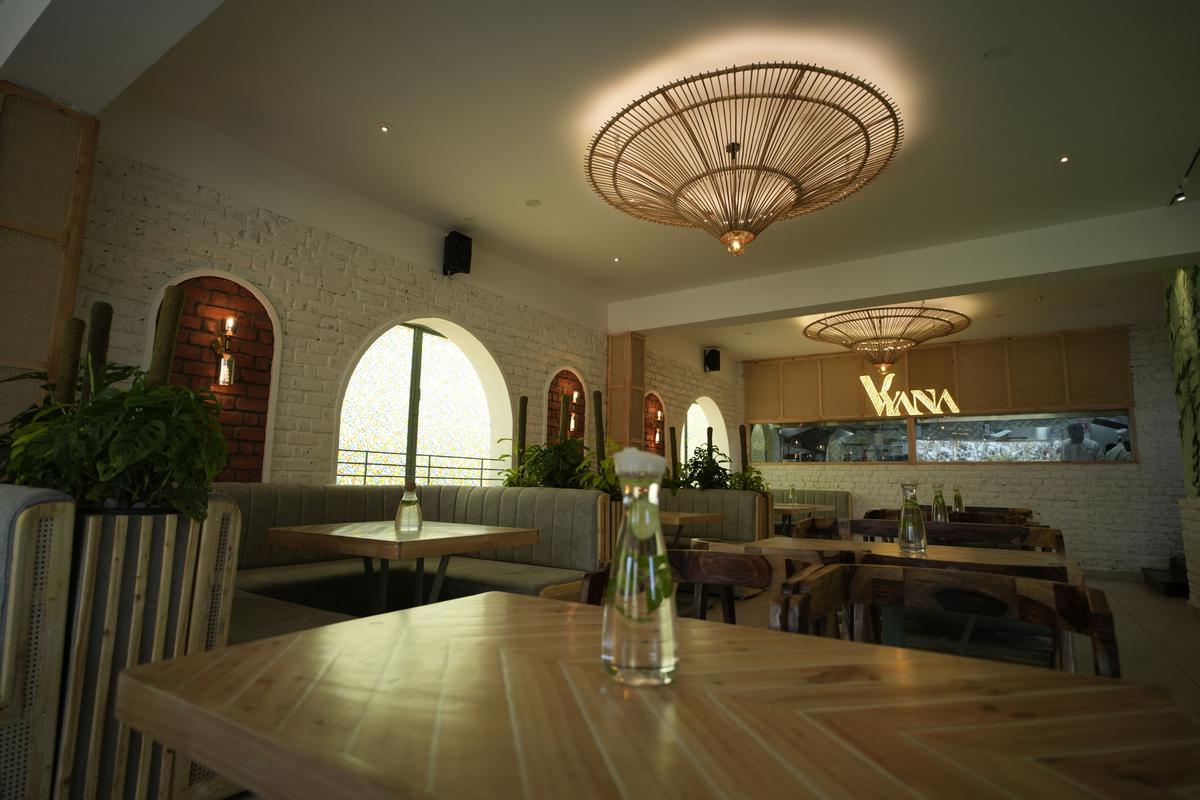 The indoor space at Vyana Flavor of Nature | Photo Credit: Special Arrangement
Vyana takes pride in its diverse menu featuring signature dishes from 21 different countries — from ramen bowls to Cambodian fish amok, What really sets Vyana apart is its commitment to sustainability through the use of locally sourced hydroponic vegetables. The result is not only fresh and flavourful dishes but also a conscious effort to reduce the restaurant's carbon footprint.
Despite a slightly chewy texture, the crispy lotus stem in honey chilli sauce still manages to impress with its bold and distinctive flavor profile.
For those with a penchant for seafood, the Egyptian pan-seared fish fillet is an absolute must-try. Tender Basa fish is skilfully prepared with sesame, nuts, and spices and served atop a bed of tomato rice pilaf and tossed greens. The dish is elevated with a creamy, coconut lemon curry sauce that delivers a zesty kick.
Vegetarians will be pleased to find horiatiki on the menu — a refreshing Greek salad that showcases a variety of diced fresh vegetables, black olives, cubes of feta cheese and sliced ​​onions, tossed with oregano and a tangy cranberry vinaigrette. The crisp vegetables and salty feta cheese blend harmoniously, while the dressing provides a pleasant acidic note to the salad.
The Vyana signature drunken pears are a true delicacy that will leave a lasting impression on any diner. The poached pears are cooked to perfection in wine and infused with a blend of warm spices that create a rich and flavourful syrup. The addition of creamy mascarpone cheese adds a luxurious touch to the dessert, which is served with a smooth and velvety vanilla ice cream.
Equally irresistible is the Ricotta Brownie Cheesecake, a dessert guaranteed to satisfy any sweet tooth. Served with a generous scoop of vanilla ice cream, it is the perfect finale to a truly delightful meal.
Vyana Flavors of Nature
Hits: Egyptian pan-seared fish fillet, horiatiki
Misses: Crispy lotus stem in honey chilli sauce, grilled mustard and chilli cheese broccoli
Wallet factor: Meal for two costs ₹1,000
Vyana Flavors of Nature is at Sai Bhavana, 4th Floor, 9th Cross Rd, 3rd Phase, JP Nagar. Open from 12noon to 11pm. For details call +919916466266.