AAs any parent knows, the mystical (read: marketing) forces behind what's hot in the toy box can change as fast as a child's dinner preferences. With the delight of Christmas morning hauls fading, in many households, negotiations have already begun about this year's birthday wishlist.
The Australian toy market is worth nearly $5bn, with customers on average spending over $300 on toys each year. This week in Melbourne more than 2000 exhibitors peddled their wares at the annual Australian Toy Association Fair, a trade event that showcases what's new in the big business of play.
Whether you're selling logic testing brainteasers or bean-filled blobs inspired by viral TikTok videos, you show your toys here.
While gimmicky whizbangery (like this oven that turns play dough into a scented, heated, plushy loaf of bread with eyes) remains a drawcard for most children and is predicted to keep selling at scale, this year many toy companies are taking their cues from the news and cultural zeitgeist. I saw toys that tapped into concerns about sustainability, misinformation, mental health and of course, a healthy dollop of nostalgia.
Toys made to melt down
The plastic from every toy you ever owned still exists and is quite possibly garnishing far-flung beaches on a deserted island. But having an environmental conscience is increasingly considered good business and some toy manufacturers are taking it seriously.
In 2020 Headstart, Australia's largest toy company, launched a line of plush toys whose fur, filling and even threading is upcycled from household plastic waste. (Note that recycled materials can't always be recycled again). Their Re-Buildables range offers similar sourcing for hard plastic toys. With local licensing rights to Care Bears, Sesame Street, Disney, Tonka and Transformers, some products are already available with more on the way.
In the 2010s Sophie Le Giraffe, a then 50-year-old teething toy common in France rose from Gallic obscurity to become a middle class must-have across the wider west. Now, meet her marsupial cousin, Mizzi the Kangaroo.
Like Sophie, Mizzi is made of rubber and is endlessly gnawable. But seeing as chew toys rarely make it as hand-me-downs, Quebec-born founder Sandra Ebbott has arranged a post-mouth path for the macropod. Chewed-up Mizzis can be returned to the company, where they'll be downcycled into rubber to build roads in Australia.
The world under a microscope
Stemming the tide of misinformation that makes its way into children's heads via the Internet is a daily anxiety for many parents. Balancing children's endless curiosity and appetite for technology against one's own patience and lack of doctoral qualifications in their chosen subject of interest at that moment can be enough to test the best of us.
While it's no magic bullet, this year the interactive Magic Adventures Microscope won product of the year at the fair. Part microscope, part video player, part game console, it takes a play-based approach to science and the environment, allowing children to literally put their world under the microscope. They're encouraged to take random detritus – leaves, sticks, that loose flap of carpet in the living room – and examine them in detailed macro vision. The device also has a range of slides that, when activated by the microscope, provide access to hundreds of interactive videos, images and games developed in collaboration with the BBC.
A toy that will remember your hugs
Transcending traditional expectations of cuddliness, Squishmallows – those kaleidoscopic memory-foam collectibles that are inescapable on TikTok (even for adults and celebrities) – have been a success since their 2017 launch. Over 100m have been sold.
It's little surprise that the kids' choice award winner at this year's fair was a squishy mashup with the world's most valuable media franchise, Pokémon. The Pikachu and Gengar Squishmallows are only the beginning. Sorry in advance to any parent asked to catch them all.
Anthropomorphized nostalgia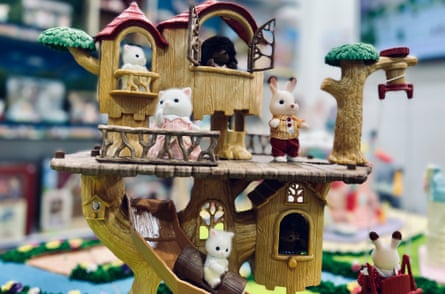 Sylvanian Families are back. Children of the 80s and 90s may remember these humanoid-woodland creature hybrids frolicking through bucolic settings (it sounds like a horror movie, but they were actually very cute). Relicensed in Australia in 2010, the Arcadian wonderland once filled with bears, mice and rabbits has expanded to include huskies, penguins and even kangaroos.
Now the Sylvanian Village has been brought into the 21st century, with a pastel amusement park featuring far less hayseed aesthetics. Sylvanian Families figurines and play sets still look and feel like the original, their delicate fur and quaint costumes harking back to a time when toys – and attention spans – were far more robust.