Your farm in Stardew Valley is your paradise. It's where you'll spend the majority of your time, and it's your most reliable source of income. There is a great deal of variety in building your farm too, and because of this, it's easy for certain things to be forgotten or overlooked.
Related: Stardew Valley: Guide To Batter Packs
You have a limited area of ​​land, but every farm should have some of these fixtures, so you will want to work all of them onto it eventually. They will help to increase your work speed, organize your farm, and offer some painfully necessary quality-of-life improvements in the mid-game.
10
pathways
Pathways might seem at first glance to be just another decorating tool, but they're not. Pathways on your farm will increase your movement speed by two percent, but only for paths on your farm. This will significantly speed up everything in your life.
Additionally, start using your paths to organize your farm. Paths should help you quarter off sections for specific purposes, and they will help you map out barn and coop locations. Building a solid floor plan will improve every action on your farm.
9
Multiple Silos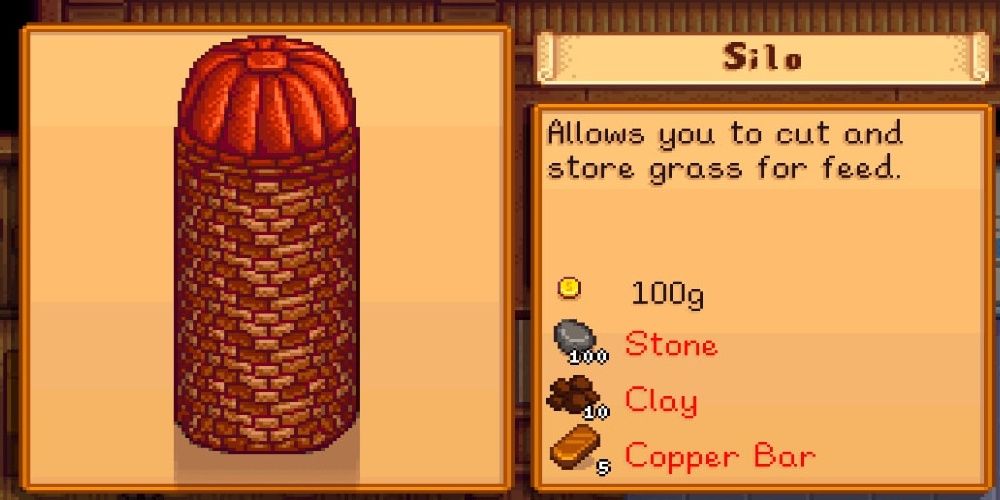 You will quickly become familiar with grain silos if you value your time and inventory space. They hold 240 hay each and will funnel that supply directly into your animal buildings, so you don't have to waste inventory space carting it around. They're also insanely cheap, only requiring 100 gold, 100 stone, ten clay, and three copper bars each.
Once you upgrade your coops and barns to their third and final stage, they will also be equipped with the auto feeder. This will remove any and all need to manually feed your animals. Just be sure to check on your hay supply often. More can always be bought for cheap at Marnie's.
8
Furniture Catalog And Calendar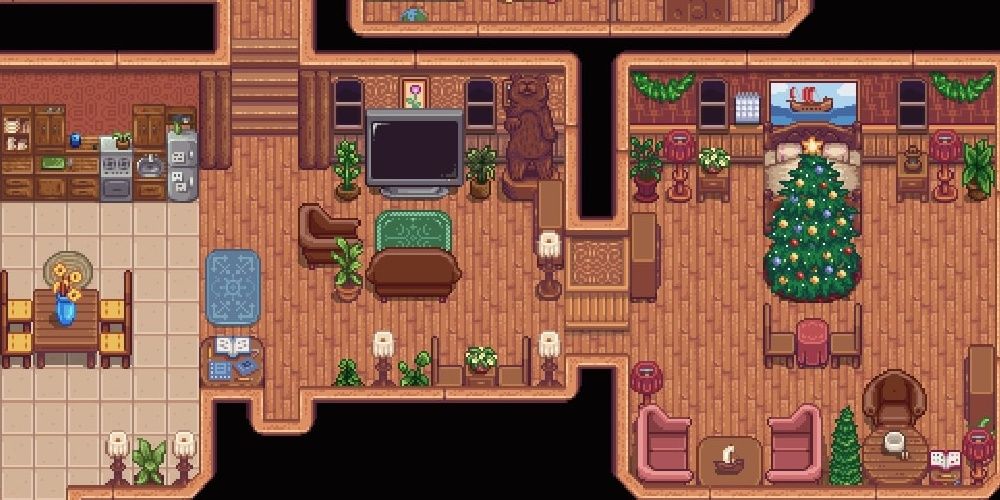 The furniture catalog and calendar can both be purchased from Robin's store. The furniture catalog can be used to summon any piece of common furniture to decorate your farm. Furniture summoned this way is free but also cannot be sold. However, the catalog itself does cost 200,000 gold to offset this.
The calendar is a part of the catalog too, but it can also be acquired early from Robin for 2,000 gold. This will let you keep track of villagers' birthdays and town events without having to visit the general store and waste time.
7
Auto Grabbers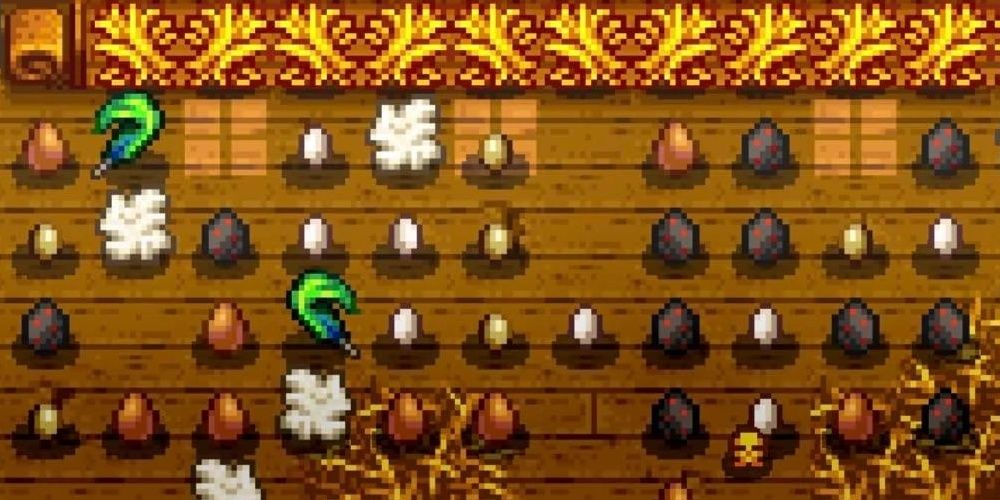 Auto-Grabbers will change your life once they're available at farming level ten. They will automatically collect all animal products except truffles at the start of each day. This includes things you'd otherwise need a tool for, like cow's milk. They can be purchased from Marnie for 25,000 gold each.
Related: Stardew Valley: Best Crops To Grow In The Greenhouse
Auto-Grabbers also have an inventory exactly like chests. This means they can collect for quite a while before they fill up. So you can ignore your ranching duties for several days to invest in other projects, and collect all the materials when you're ready.
6
rabbit hutch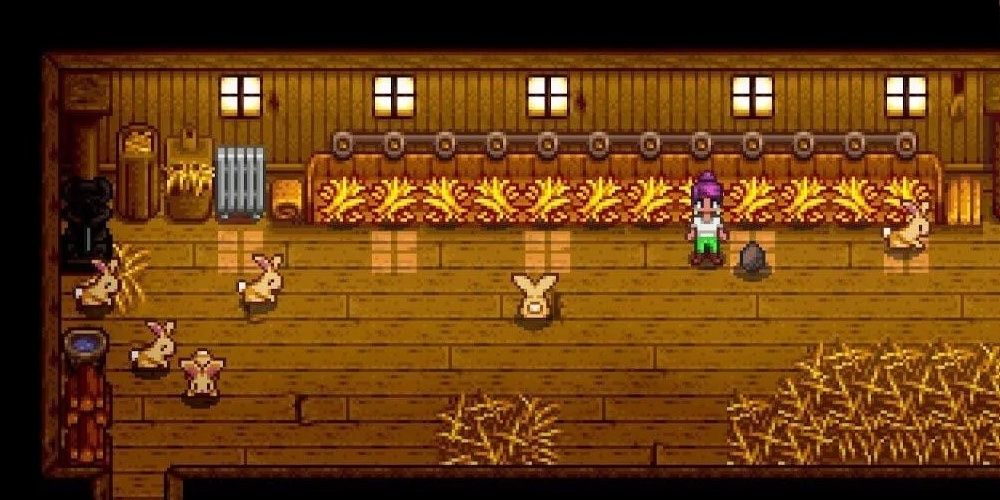 There are many animals you could and should be raising. Ducks and cows are the most consistent, while pigs can rake in quite a bit of dough. Rabbits, on the other hand, will provide you with an invaluable supply of gifts through rabbit feet.
Rabbit's feet are a universally loved gift, so they can be given out ad nauseam. To really get the most out of this investment, you will want to pet your rabbits every day to raise their affection. Once they're significantly friendly enough, they will produce iridium-quality feet.
5
Horse Stable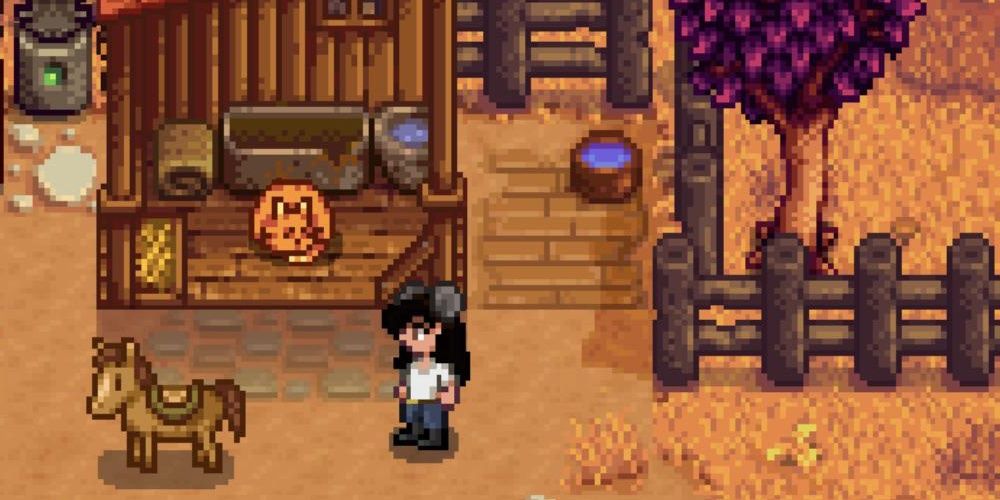 The stable is another necessary time-saver that will only add up more and more over time, so you should try and purchase your steed as soon as possible. It can be purchased from Robin at the start of the game for 10,000 gold, 100 hardwood, and five iron bars. This means the only blockade between you and a horse is money and hardwood.
Once you have the horse, you'll never look back. The horse moves 30 percent faster than you, and it also gains the pathway speed boost. The marvelous lad or lass also has unexplainable teleportation powers, as it will always return to its stable at the start of a day, no matter where you left it.
4
Slime Hutch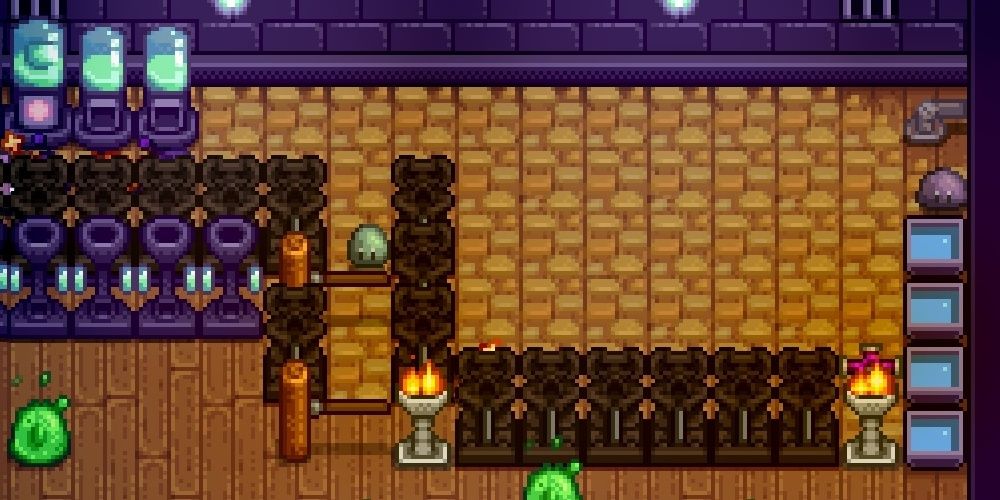 The slime hutch is a luxury building that won't be necessary for every farm, but it will be crucial for farms with pigs. The slime farm will allow you to raise slimes. Adorable, and still very hostile, slimes. The return, however, is the ability to harvest slime from slime balls.
Related: Stardew Valley: How To Make Truffle Oil
Slime will be used primarily to make oil makers that extract oil from truffles. Pigs can turn up quite a few per day, so you may need a lot of oil makers. Additionally, slime can also be used to make Monster Musk to increase mob rates for farming certain items in the mines.
3
Sheds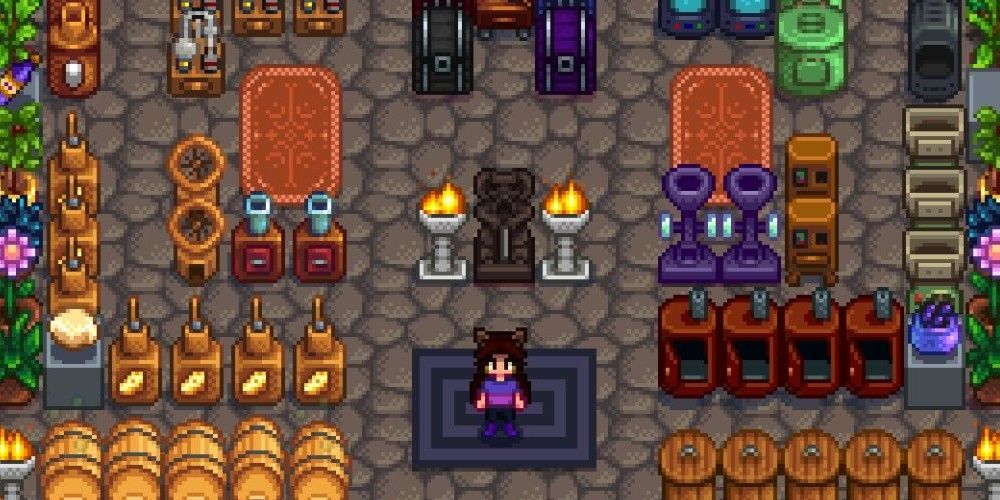 Sheds will be your primary way of increasing your space on the farm. They cost 15,000 gold and 300 wood to build, and another 20,000 gold, 550 wood, and 300 stone to upgrade. Doing so, however, will increase the inside from an 11×9 to a 17×12.
Sheds can be used to store any placeable object like furnaces or furniture. This means you can have entire sheds filled with barrels brewing wine or machines to turn animal products into artisanal goods. This will inevitably save hundreds of spaces on your farm.
2
Cellar: Third House Expansion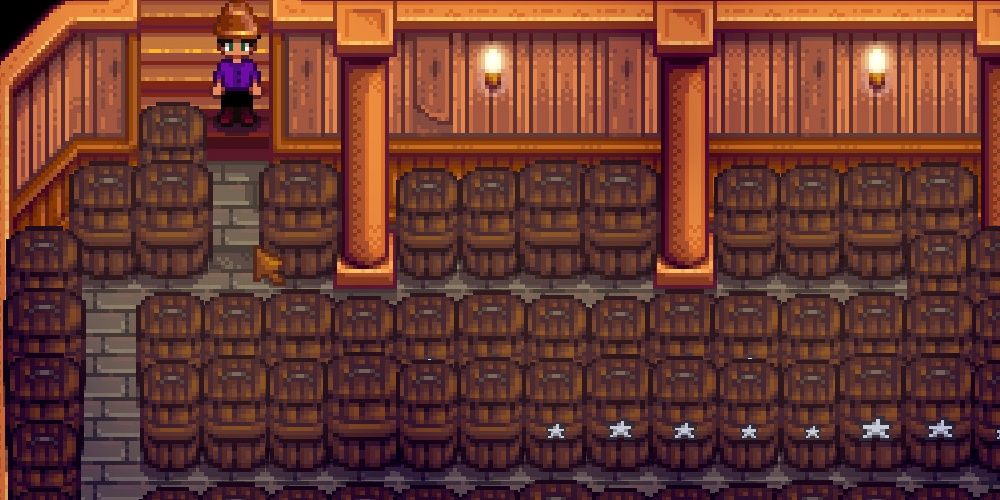 The cellar is unlocked after you upgrade your house for the third and final time. This is an expensive endeavor but one you shouldn't overlook. For most house upgrades, you may not be that enticed by additional space to decorate if you spend all your time outside or away from the farm. This, however, doesn't apply to the cellar upgrade, as it can quickly become your biggest cash cow.
The cellar is only good for one thing – aging wine in casks. The price of aged wine skyrockets and a single batch from your starting cellar can be more than enough to start paying off the upgrade. More casks can be built, too, increasing the number of wines that can be aged at once.
1
Travel Obelisks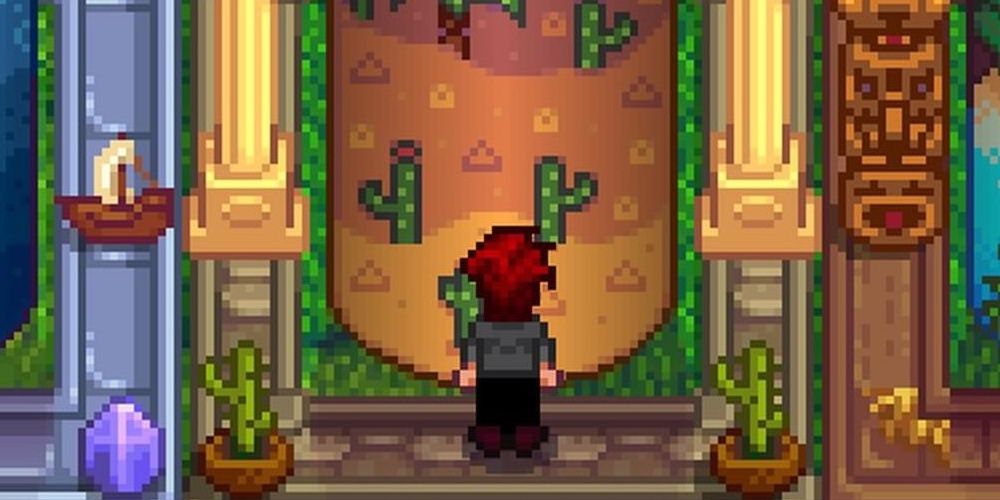 The traveling Obelisks will be a late-game prize for any player. They let you warp between the four farthest corners of the world, drastically reducing travel time and resource drain. They won't be obtainable until you complete the quest, Goblin Problem, and get the Magic Ink for the Wizard. Afterwards, the Obelisks can be purchased from his enchanting table.
The cost of the Obelisks is steep, requiring several hundred gold each, as well as resources unique to the area you'll be teleported to. You won't regret a single penny, though. You will never have to craft another warp totem, ride the bus, or take the boat to Ginger Island ever again.
Next: Stardew Valley: The Community Center Vs. Joja Mart