Jeanne is the first playable character in Nadir. She's a great choice for players learning the basics!
Jeanne is the first character that players can choose from. nadir, She's about as straightforward as it gets in terms of strategy, preferring to hit hard and block incoming damage with lots of armor. What she lacks in versatility, she makes up for in consistency!
Related: The Best Deck Building Games On Steam
Since Jeanne is the best character for learning the game, she excels at doing more with less. As a result, her card pool is slightly smaller than those of Vlad or Hernan, but it also means she has less chance of running into dud cards. Use these strategies to bring some knightly valor to the citizens of Nadir!
Jeanne's Deck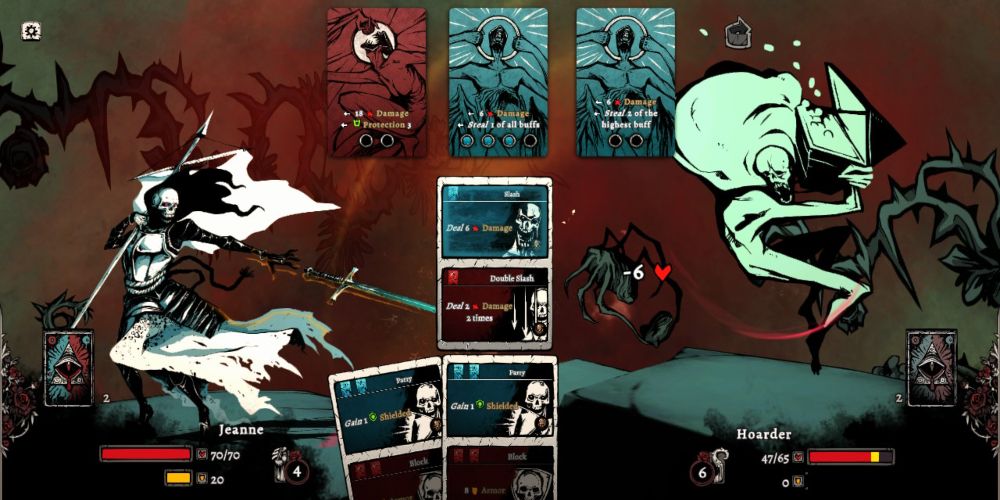 Jeanne's cards can be broadly divided into three categories – cards that build up ragecards that deal heavy damageand cards that preventdamage. Her basic strategy is to build up as much Rage as possible and keeping her Armor intact before smiting her opponent with a few hard-hitting cards.
Starting Deck
| Quantity | blue half | red half |
| --- | --- | --- |
| 3 | slash – Deals 1.5x Strength in Damage. | double slash – Deal 0.5x Strength in Damage 2 times. |
| 2 | Parry Gain 1 Shielded. | blocks Gain 8 Armor. |
| 1 | Anointing – Gain 1 Rage | wide slash – Deals 4x Strength in Damage. |
During early fights, before you've had a chance to get more cards, it's often better to quickly wear down opponents using Anointment, Slash, and Wide Slash before they have a chance to do much damage back to you. Jeanne starts with enough armor to handle most attacks from weaker enemies as long as she dispatches them in a timely manner.
In later fights, particularly against elites and bosses, you'll need to balance your Rage buildup with keeping your HP high, Jeanne's healing abilities are clumsy and expensive, so heavy use of armor and the Shielded status are necessary to avoid most damage. Jeanne is weakest against enemies that use Piercing Damage or Bleeding to bypass Armor altogether.
Related: The Most Iconic Paladins In Gaming, Ranked
Best Cards For Jeanne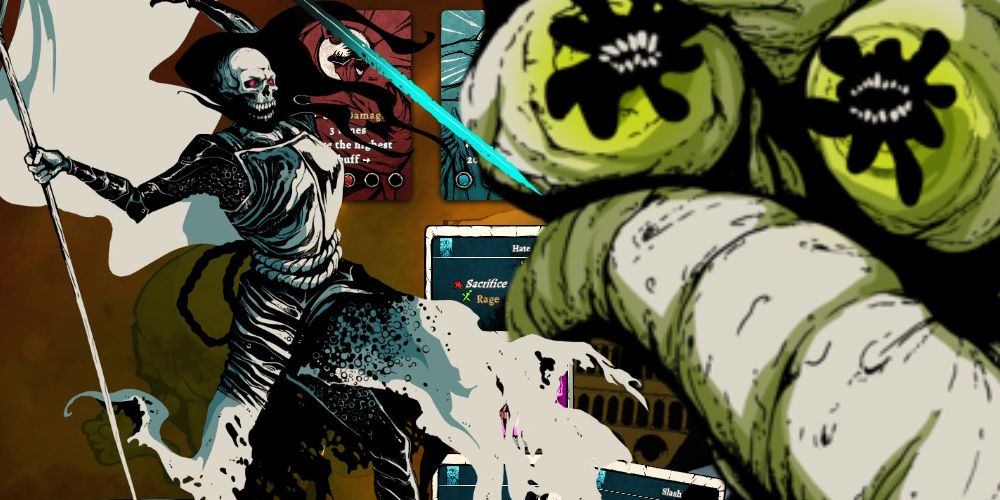 In general, it's best to prioritize cards that grant Rage, since each point of Rage increases Jeanne's Strength and therefore serves as a damage multiplier. If there aren't any Rage cards available, look for Armor and healingthen high-damage finishers,
Recommended Rage Cards
cards

cost

effects

Notes

Anointing

2 Blue

Try moving the Wide Slash attached to your starting Anointment to a different Blue card – that way you can potentially use it immediately after gaining Rage.

berserk

2 red

Gain 2 Rage.
Suffer 2x Strength in damage.

Armor and the Shielded status can absorb damage from Berserk.
Berserk deals more damage to you the higher your Rage goes – attach it to a Blue card with Burn, such as Force Field, to get it out of your deck later in a fight.

battle cry

2 Blue

Delay: Gain 1 Rage.
Stealth.

Good for prolonged fights against enemies with manageable redraw penalties, especially if you also have Rejuvenate in your deck.

Prayer Of Fury

2 Blue

Doubles Jeanne's current Rage.
Burn.

A one-time boost that's ideal for setting up a finisher.

Storm

2 red

Very rare and very powerful – always take it if it appears!
Valor and Enrage both provide large increases to Rage, but with a cost of three Red each. give your opponent too many opportunities to hit back, Use that high-cost slot for a damage-dealing card instead.
Recommended Defense Cards
cards

cost

effects

Notes

Rejuvenate

2 Blue

delay: Restore 10 HP.
Stealth.

Jeanne's only reliably means of recovering HP.
Also serves as a quick way to cycle through your deck while building up a large heal.

iron fist

2 red

Deals 2x Strength in Damage.
Gain 8 Armor.

The damage increases with your Rage counter, but the Armor boost does not.
Replacing your starting Blocks with Iron Fists helps keep your deck small and gives more benefit for a single card.

Unbreakable

3 red

Restore 5 HP.
Erase your highest debuff.

The healing is too small to be important, but getting rid of debuffs is essential against most bosses.

mercy

3 Blue

Restore 20 HP
Gain 1 Shielded.

Best used as an emergency heal.
Pair it with a cheap Red card to keep it from cluttering your hand.

Righteous Armor

2 Blue

Gain 10 Armor.
Gain 2 Counter.

Blue cards that increase Armor are rare, making this a versatile choice.
Counter is best paired with Shielded, as you still get to retaliate even if the damage is blocked.
Recommended Finishers
cards

cost

effects

Notes

Growing Power

2 Blue

Deals 3x Strength in Damage.
Boost 3.

The boost affects every copy of Growing Power in your deck – if you can manage to get two or three you can build up a very powerful attack!

Reckless charge

1 Blue

Deals 5x Strength in Damage.
Gain 3 Bleeding.

Weaker than other finishers, and the bleeding effect isn't ideal, but the cost can't be beaten.

hate

1 Blue

Sacrifice all anger.
Deal 10 Damage for each stack of Rage sacrificed.

High potential for damage.
Can also be used to prevent an enemy from stealing your Rage stacks.

God's Will

3 red

Deals 8x Strength in Damage.

Jeanne's most powerful attack.
Next: D&D: All Official Paladin Subclasses, Ranked