Phyrexia: All Will Be One is a return to the tortured world of New Phyrexia years after Phyrexia's triumphant return to Magic: The Gathering. The animals and people of what was once Mirrodin have been twisted and malformed through a process called completion. Some pockets of resistance remain, but much of the plane has been consumed by the ever-growing tide of Phyrexia.
Related: Magic: The Gathering – The Best Art From Phyrexia: All Will Be One
All this completion talk means you get to play with some extremely powerful creatures in your decks. Whether you're spreading poison counters, creating tokens, or obliterating your opponent's board, there are plenty of powerful creatures in Phyrexia: All Will Be One.
10
Cankerbloom
Every few sets, it seems like Magic prints a creature like Cankerbloom, and this iteration may be the best yet. For just two mana you get a 3/2 creature that can be sacrificed for one of three effects.
Destroying an artifact or enchantment is par for the course, but proliferating is a powerful addition. Now your Cankerbloom can tick up your planeswalkers to help them reach their ultimate abilities faster, or it can help poison out your opponents by giving them poison counters.
9
Thrummingbird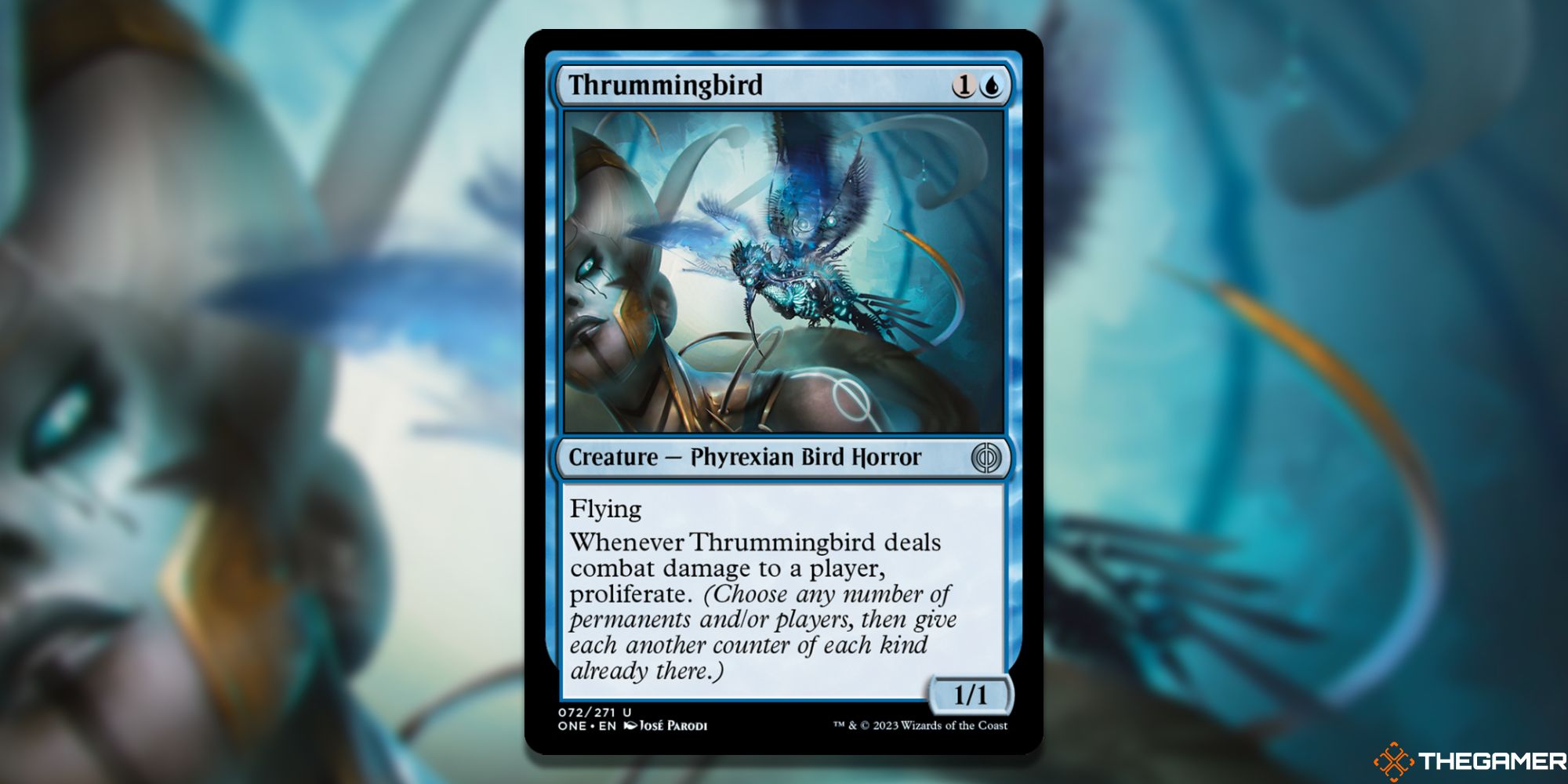 Speaking of proliferating, one of the best creatures that enable it is back in Phyrexia: All Will Be One. While Thrummingbird is just a 1/1 for two mana, it proliferates every time it deals damage to a player. Without a flying creature, your opponent won't be able to stop you from adding counters to anything you want.
With the number of playable equipment cards in Phyrexia: All Will Be One you can easily pump up your Thrummingbird to get by smaller blockers.
8
Soulless Jailer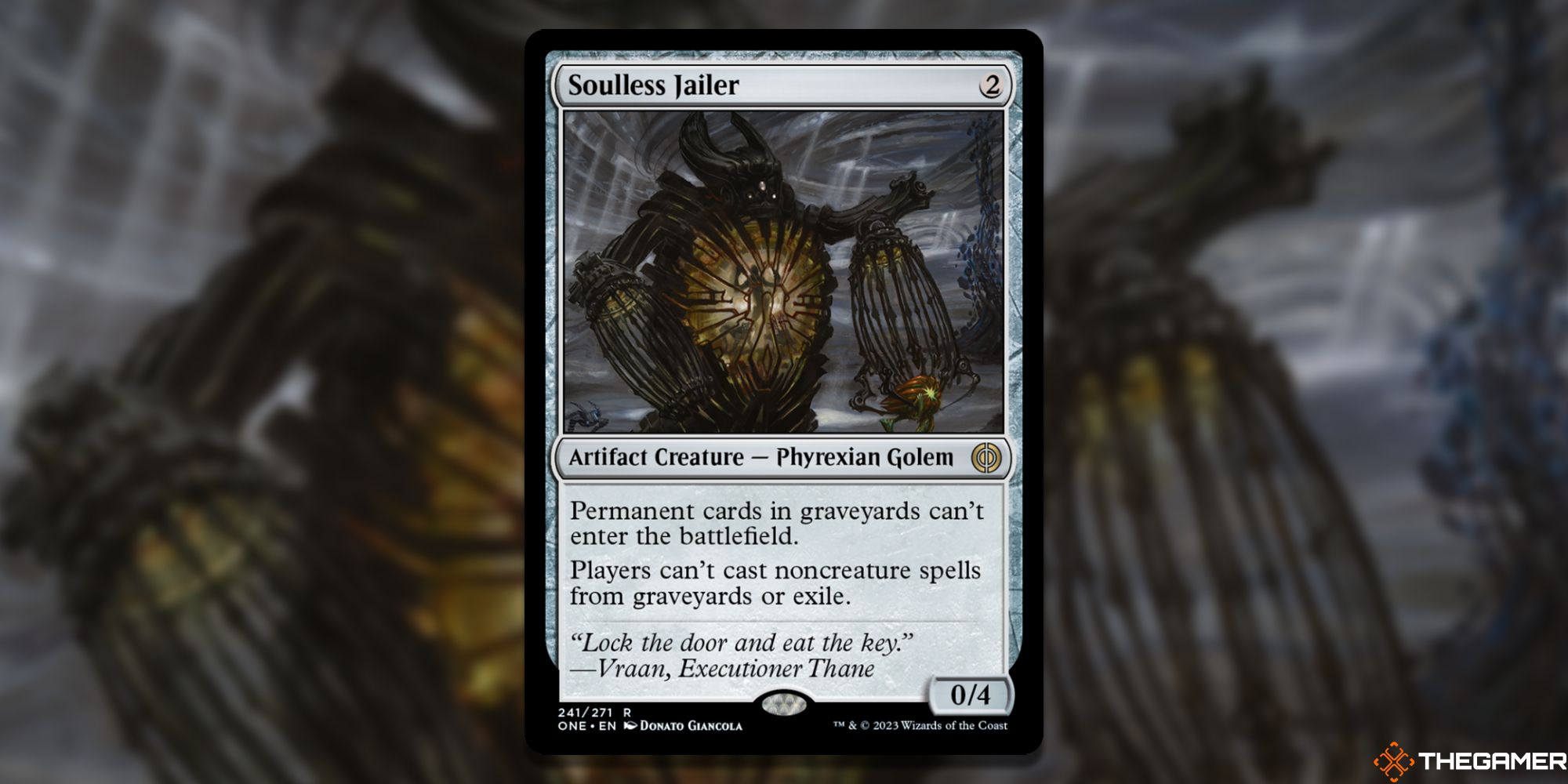 Soulless Jailer is a powerful graveyard hate card that can also shut down your opponent's ability to cast noncreature cards from exile. This effect hits all players, yourself included, but for many decks, it won't stop your plan. It is also important to keep in mind when playing Soulless Jailer that it won't stop copies of spells from exile. This probably won't be relevant often, but may still come up in games.
Next: Magic: The Gathering – The Best Lands From Phyrexia: All Will Be One
Soulless Jailer is a great sideboard piece for Eternal formats like Modern and Legacy, where graveyard strategies are extremely powerful and may require different tools to stop them.
7
Solphim, Mayhem Dominus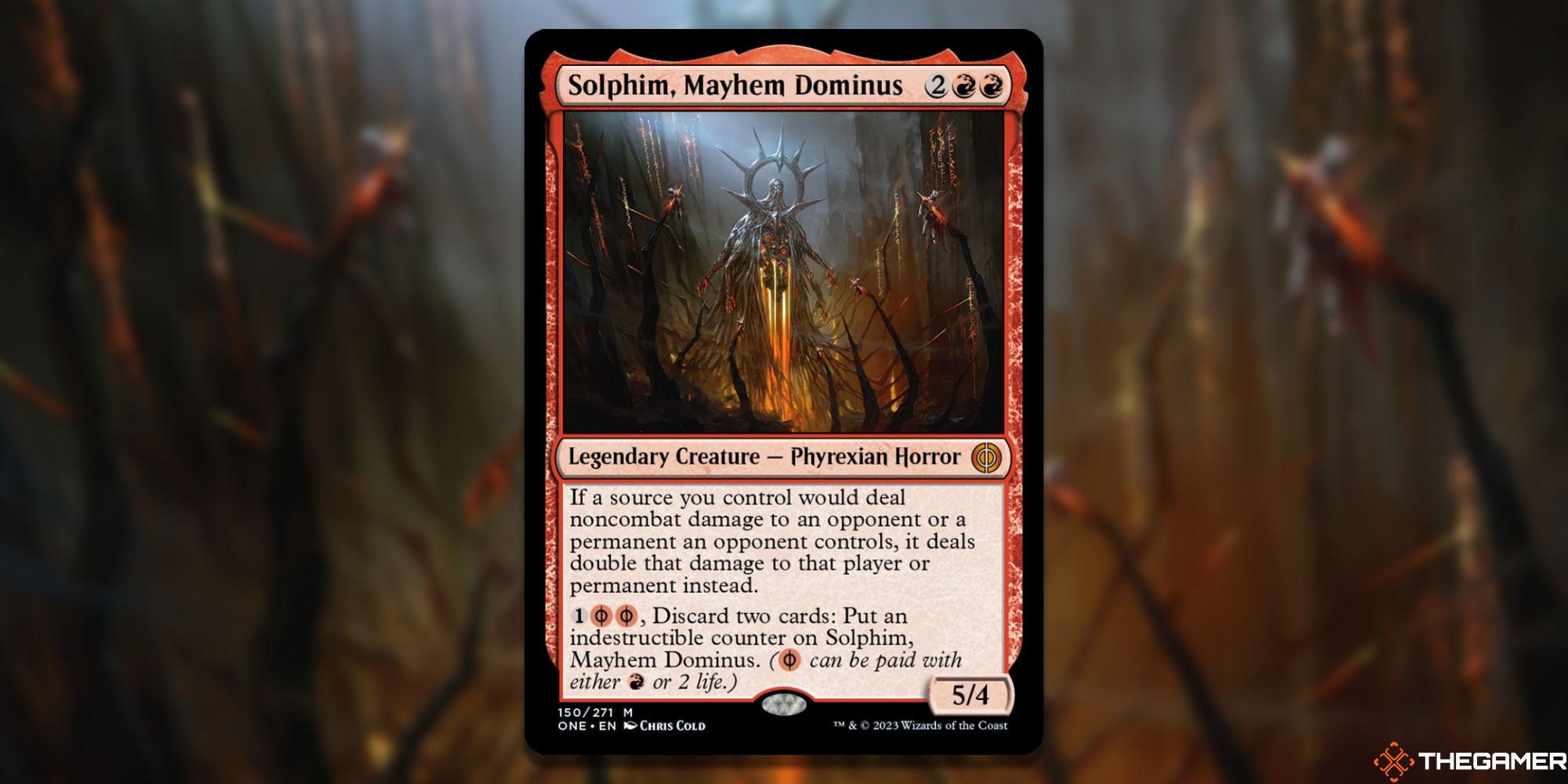 If you're looking to burn your opponents out fast and hard, then Solphim, Mayhem Dominus is the way to go. This pseudo-God creature doubles the amount of noncombat damage you would deal to your opponent or anything they control. With Solphim in play, your Lighting Strikes are now dealing a devastating six damage instead of the regular three, a massive upgrade for the two mana burn spell.
Solphim also comes with a built-in indestructible option, at the low cost of discarding two cards and paying three mana (or one mana and four life) to put an indestructible counter on it. This cost can be a little difficult to hit since often going down in cards in hand without a way to recur them from the graveyard is not a great strategy but if you have the spare cards in hand it can be a good use of them.
6
Mondrak, Glory Dominus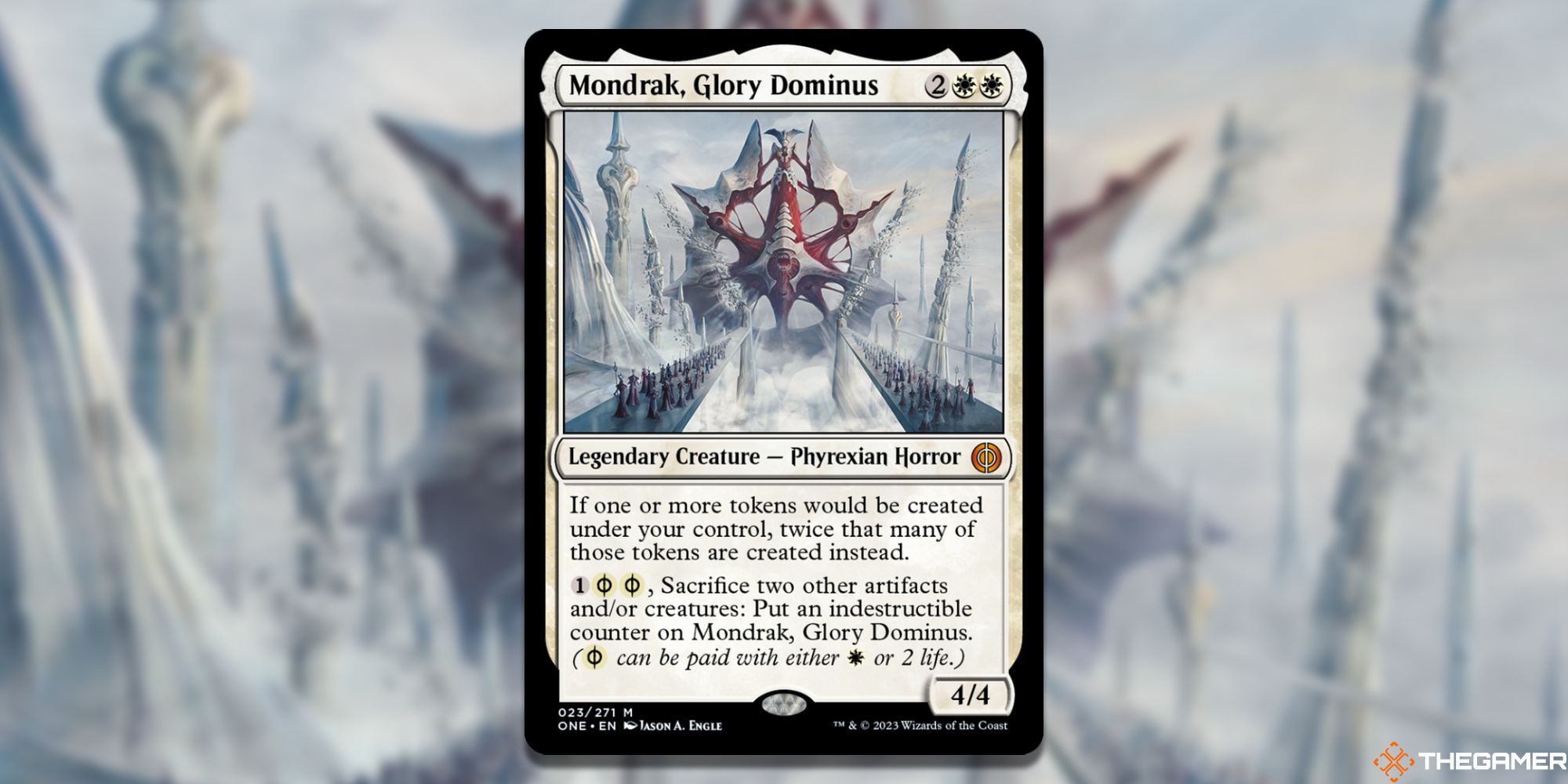 Each of the Domini from Phyrexia: All Will Be One are massive, profane monuments to the corruption that is Phyrexia, and Mondrak may just be the most powerful of them all. Mondrak rewards your token generation by doubling up on them, giving you twice as many tokens as you would normally make.
With lots of cards that create Mite tokens, as well as tokens from equipment with the For Mirrodin! ability, and all sorts of Phyrexian Goblins running around, you'll be putting Mondrak to good use.
5
Venerated Rotpriest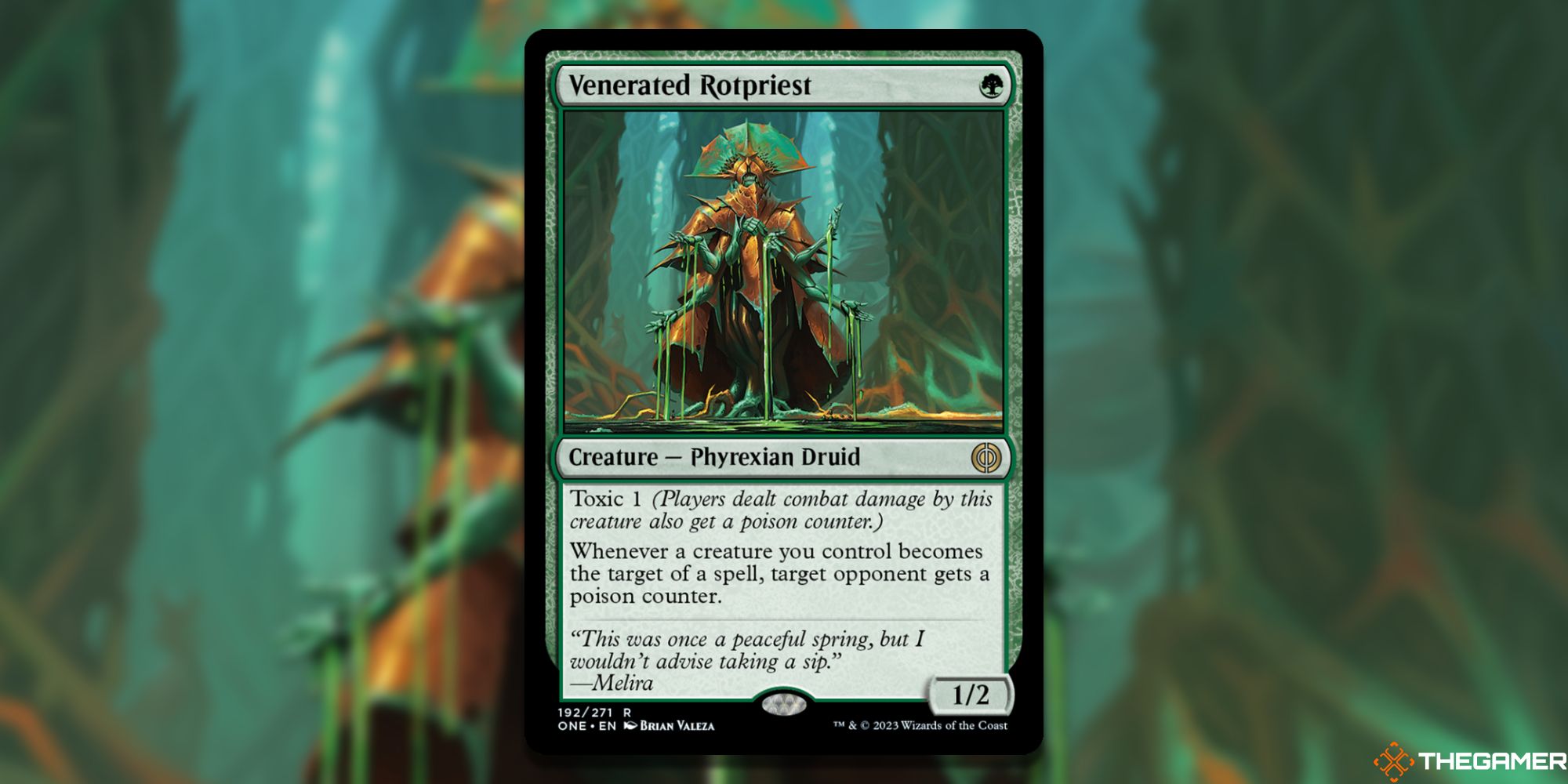 There's poisoning your opponent, and then there's poisoning your opponent with style, which is what Venerated Rotpriest helps you do. As a one-mana, 1/2 with toxic 1, it likely won't be connecting with your opponent often to start the poison clock. But every time a creature you control becomes the target of a spell, regardless if the spell is yours or your opponent's, you get to dish out poison counters.
Next: Magic: The Gathering – The Best Commanders From Phyrexia: All Will Be One
Pair Venerated Rotpriest up with Ivy, Gleeful Spellthief, who copies spells you cast if you target a creature other than Ivy, and suddenly all your spells are generating multiple poison counters per spell.
4
Tyrranax Rex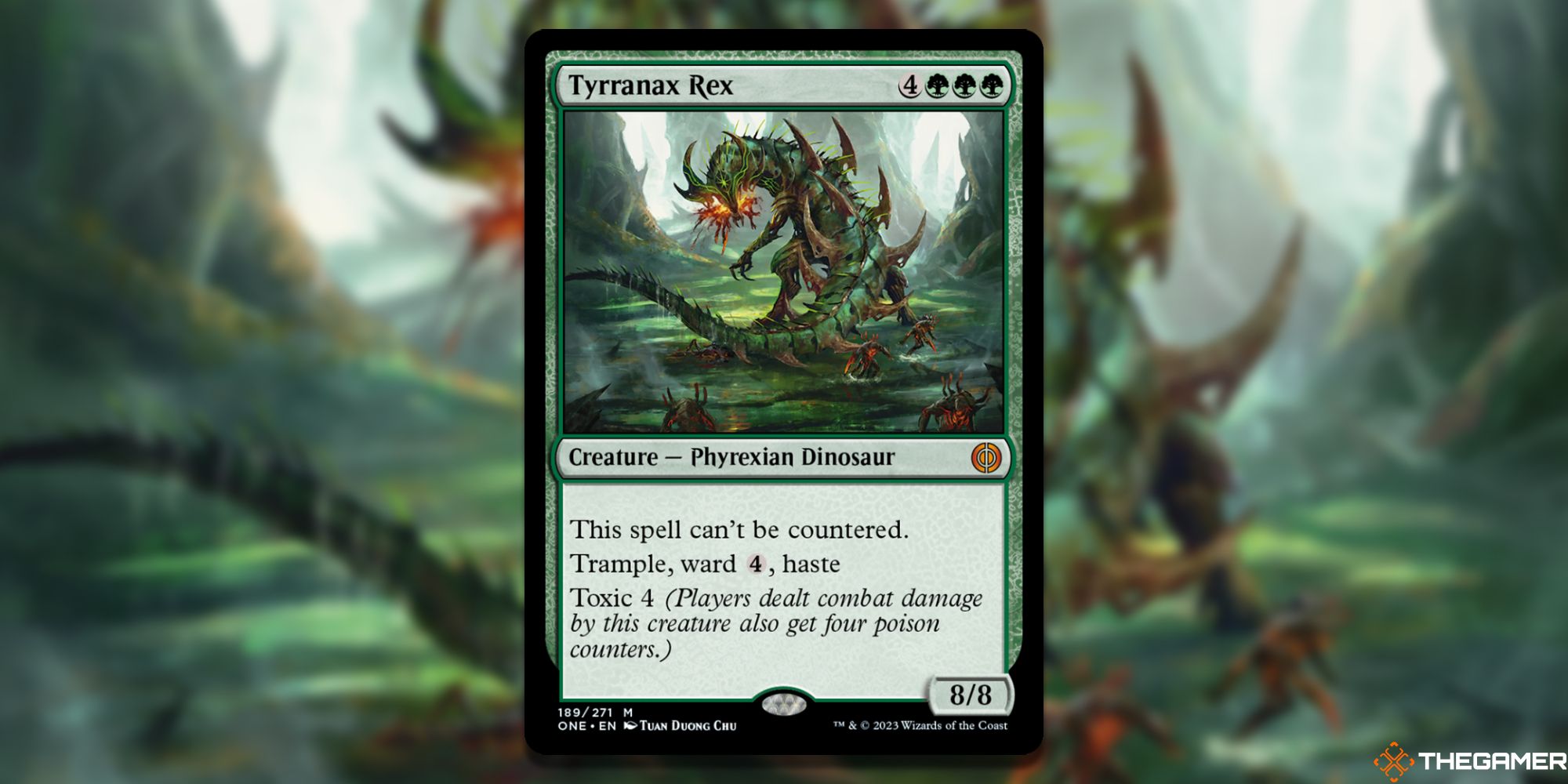 Continuing green's trend of massive creatures loaded with keywords comes Tyrranax Rex. This seven-mana, 8/8 creature comes with trample, making it difficult to block, and toxic 4, which means if your opponent can't stop all eight damage, they're going to get four poison counters no matter what. Even if your opponent can block all eight damage, you're likely going to be trading your one Tyrranax Rex for three or four creatures they control.
To make Tyrranax Rex even more difficult to deal with, it has ward 4, so any removal spell your opponent tries to play will cost them four more mana to target it, and haste, so you're all but guaranteed to get at least one. attack in with it before your opponent can try to stop it.
3
Phyrexian Vindicator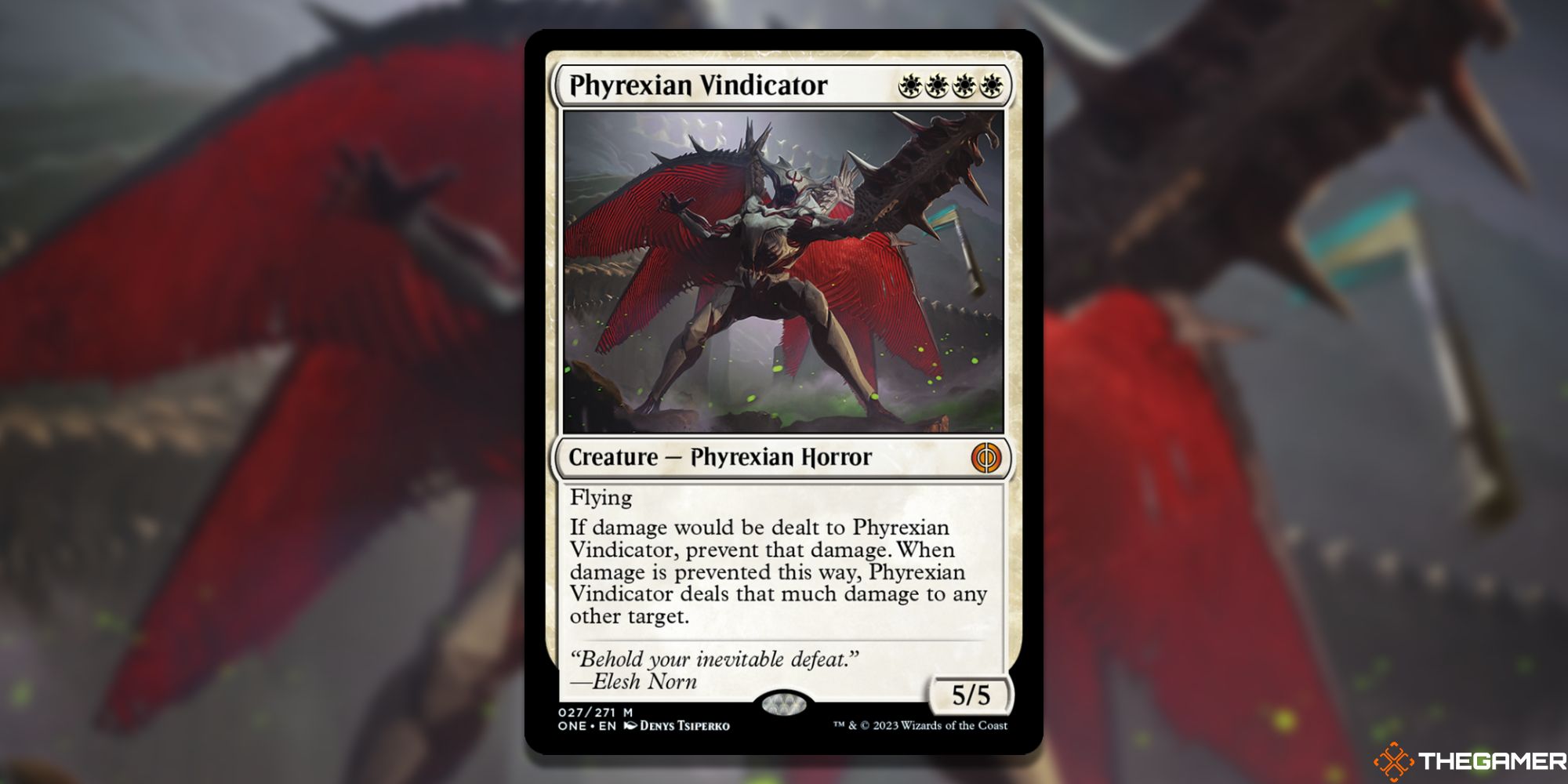 The inverse of the all-time mono-black champion, Phyrexian Obliterator, has arrived in Phyrexia: All Will Be One. Phyrexian Vindicator comes with a steep four white mana value, but you get a powerful flying creature in return.
Any time Phyrexian Vindicator takes damage, that damage is prevented and instead, you can deal that much damage to another target. That could be an opponent's creature, planeswalker, or even their life totally directly.
2
Phyrexian Obliterator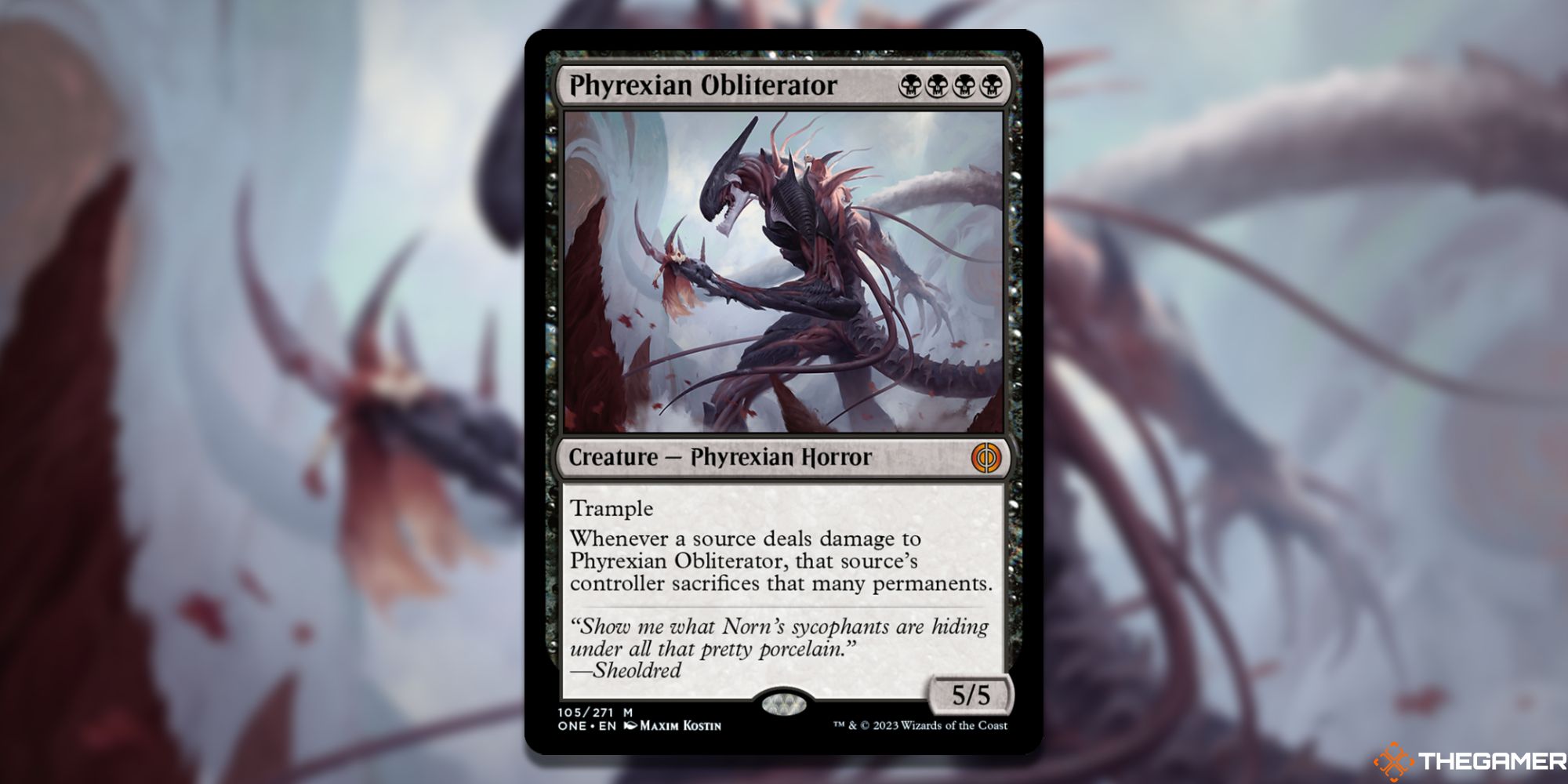 It's hard to beat the original Phyrexian nightmare and despite the overall power of creatures in Phyrexia: All Will Be One, it still is one of the best creatures in the set. Any damage done to Phyrexian Obliterator will force the source's controller to sacrifice that many permanents in response, a fair tradeoff for its steep mana value.
It turns your opponent's chump blockers into a staggering trade in permanents unless they have an army of tokens or permanents they mind losing in play. Your opponents can of course remove Phrexian Obliterator with hard removal spells, but unless they have an answer immediately, your Obliterator will likely get a few hits in before they can remove it.
1
Elesh Norn, Mother of Machines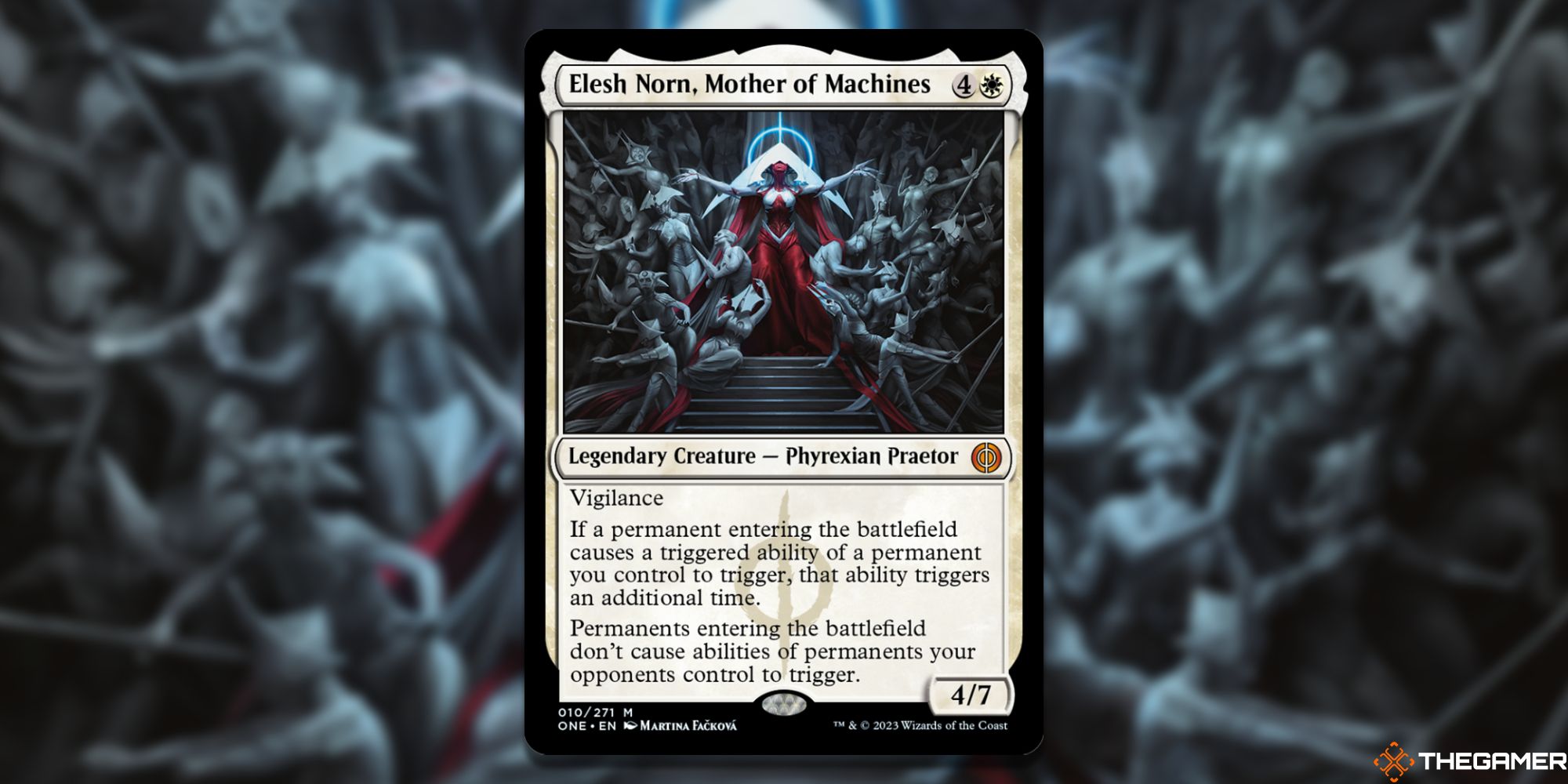 You know a card is going to be good when Magic prints ten different versions of it in one set. Elesh Norn, the Mother of Machines herself, is here to complete your games by doubling up your enter the battlefield effects. Elesh Norn relies on you to build around it a bit, loading your deck with efficient enter-the-battlefield effects.
Not only does Elesh Norn improve all your cards, but is a very powerful Stax card, turning off your opponents' enter-the-battlefield effects.
Next: Magic: The Gathering – The Best Enchantment Cards In Phyrexia: All Will Be One