Quick Links
Arranging A Meeting With The Chief
Like A Dragon: Ishin's seventh chapter sees Ryoma tumble further down this rabbit hole of deceit and corruption. However, while the plot will, in fact, thicken, some pressing questions will also be answered. You will also be another step closer to finding out the identity of your father's assassin.
Related: Like A Dragon: Ishin – Minigame GuideBut while this chapter is filled with twists and turns, its most notable aspect is its climactic battle. You will face off against a pretty tough opponent. But worry not, we are more than happy to give you all the information you need to emerge victorious from this encounter.
Arranging A Meeting With The Chief
You are going to start this chapter off in the Teradaya Inn. After you talk to Nakaoka, it is time to head back to the Shinsengumi HQ., After arriving at the entrance, you will witness a cutscene. Now, enter the barracks and head for the back.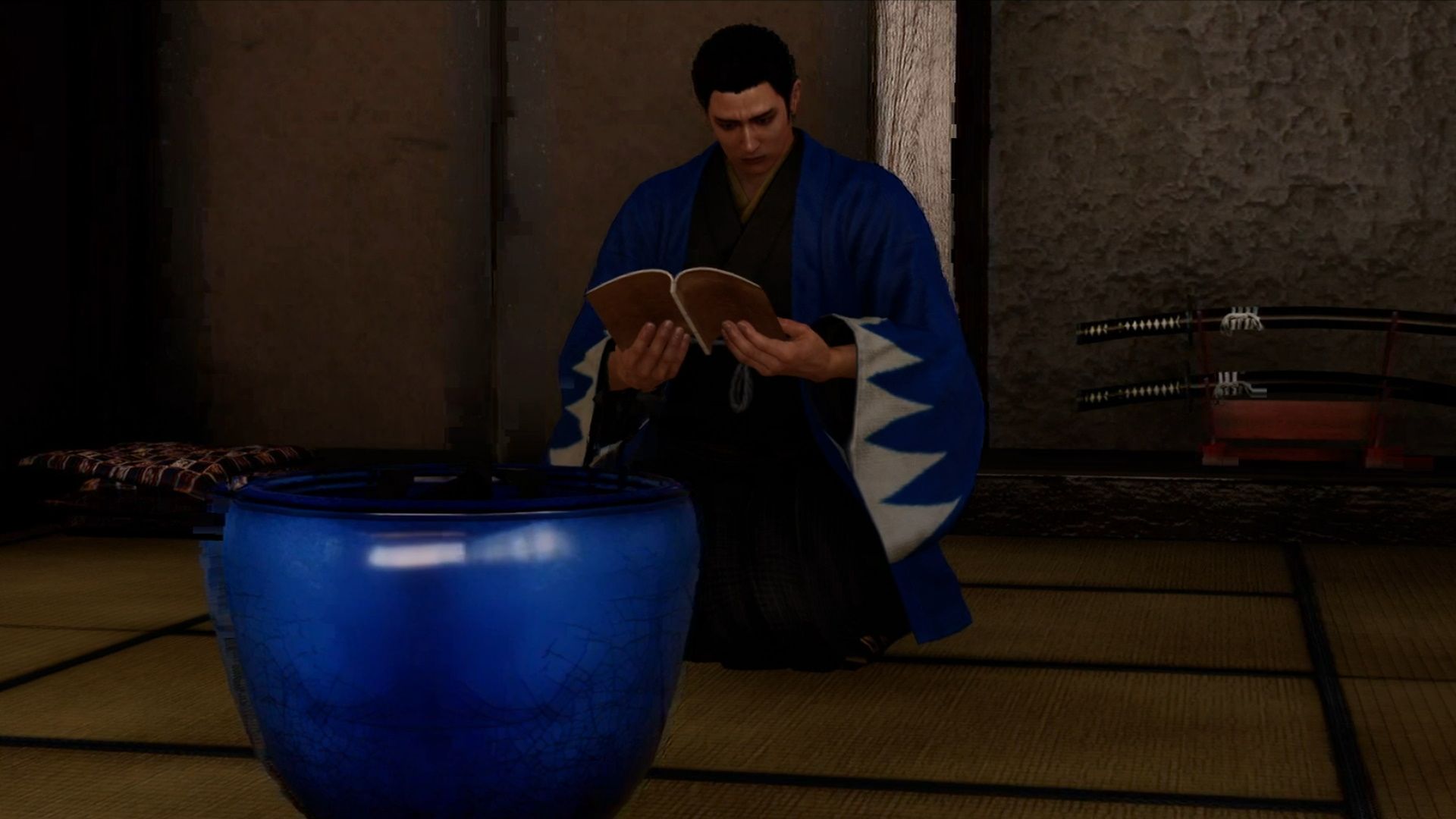 Unfortunately, before you can open the door, you will be stopped by Ito. Head to Hijikata's room to see if he can be of any help. Unfortunately, he will be of no help. Now go to the training grounds and talk to Okita and Takeda. After speaking to them, try to leave through the front gate. Inoue will stop you, and tell you that you will be able to talk to Kondo after you gather information on a person of interest. Awkwardly, you will now be tasked with hunting down information on Sakimoto Ryoma.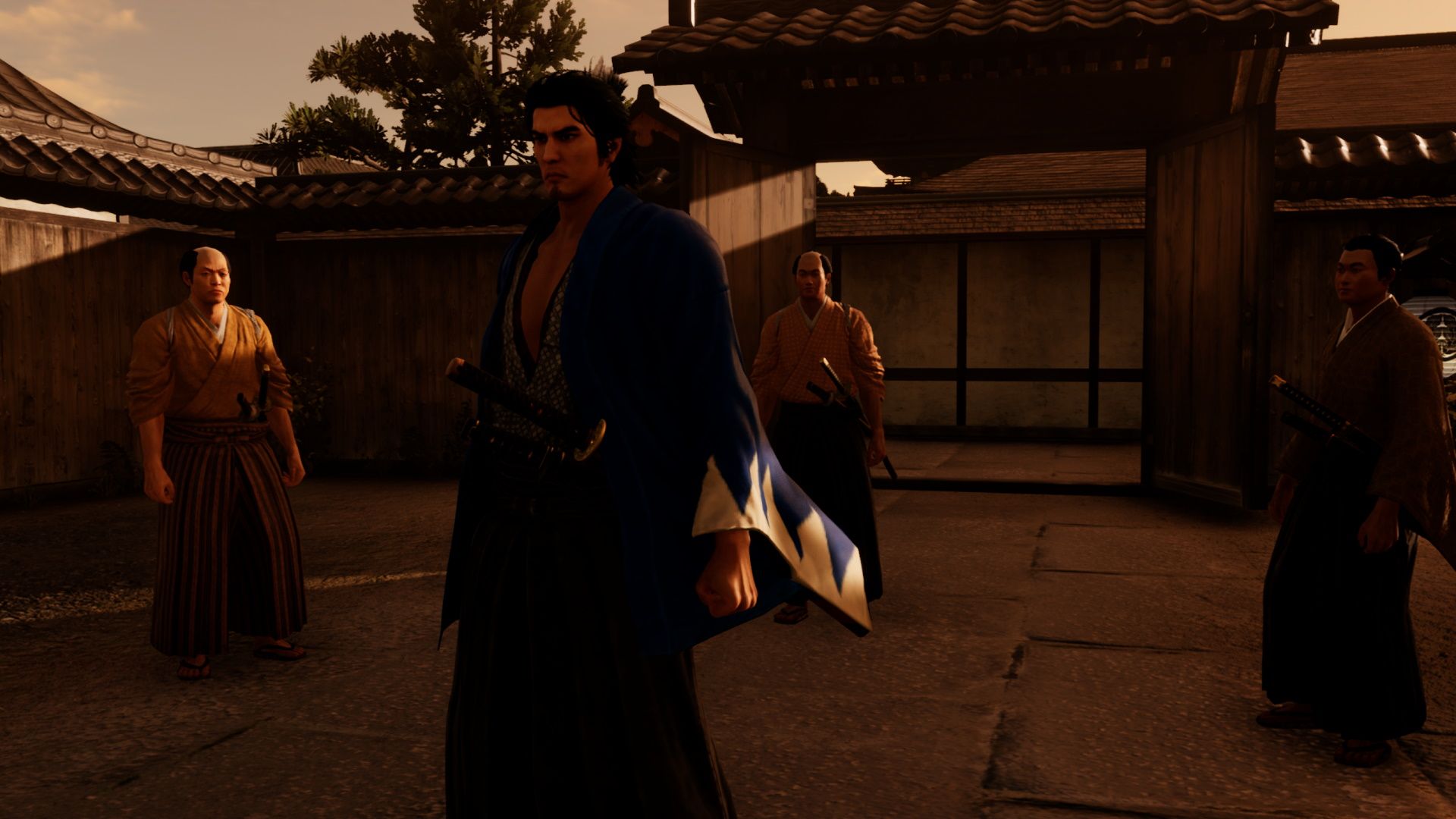 Head back to the Teradaya, and talk to Nakaoka again. After you have discussed matters with him, take a palanquin to the Satsuma consulate, which is at the north end of Rakunai. You will talk to the guard at the game, and he will lead you to the Shinto Temple. You will then have to fight four swordsmen, they are a hair stronger than the typical street thug, but you will be more than capable of handling them.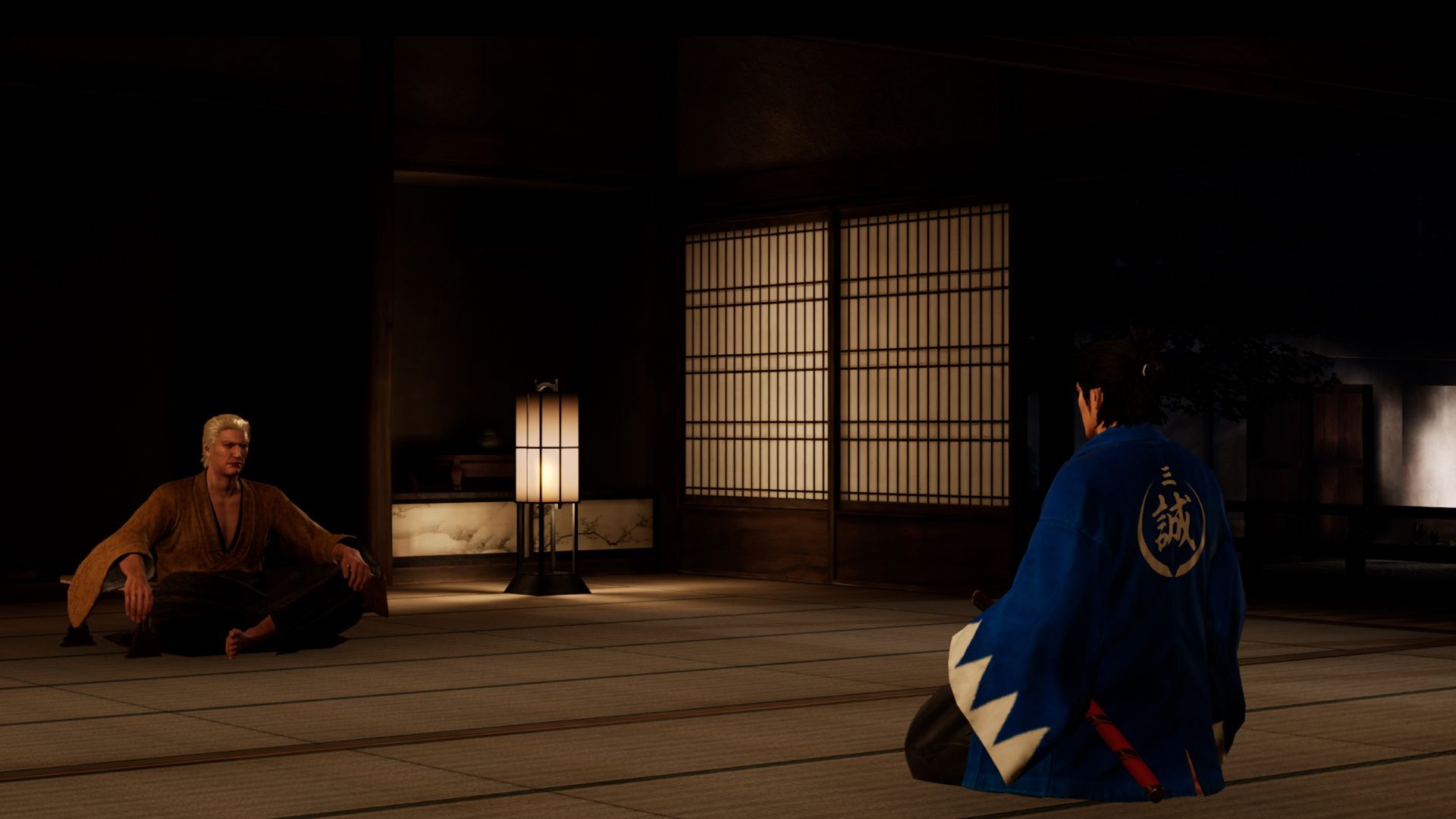 Saigo and Ryoma will have a bit of a reunion, and he will tell you that he doesn't have much to tell you about this Ryoma fellow. You will now be back on the street. Your conversation must have been a lengthy one, as it will now be night. You will run into Yamazaki, who will then tell you to head to the Gion Ryote.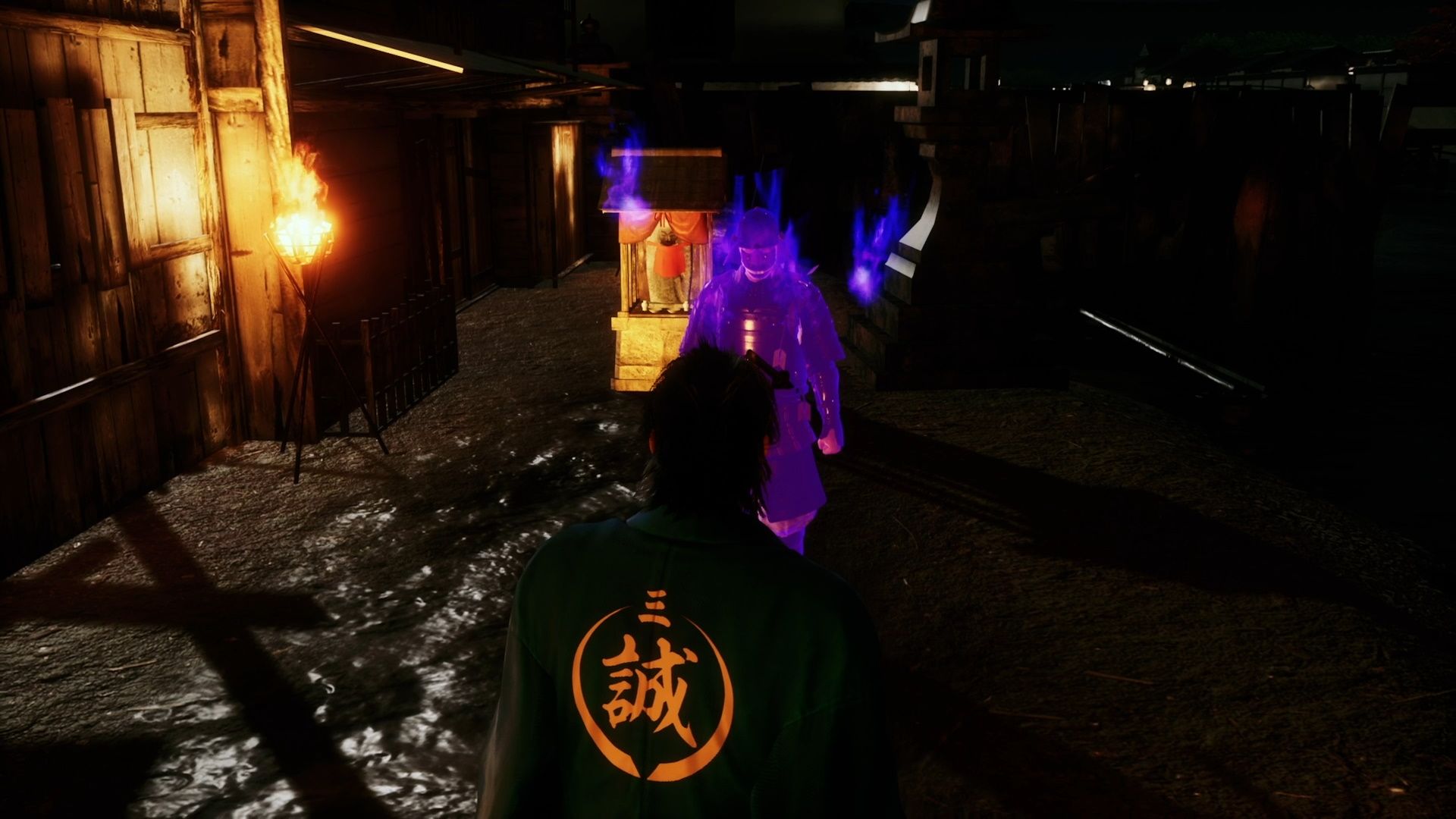 Since it's night this is the perfect time to go to Mukurogai and complete the Night of the living Rumor substory or to go back to your farm and activate the bed scene with Haruka (It isn't weird, we promise).
Once you are ready to progress the story, head to Gion. Once you arrive at the Ryotei (the building across from the brothel), you will be asked if you are certain you want to progress. Keep in mind that if you say yes, you will be locked in for the rest of the chapter. You will be heading into a pretty tough battle, so make sure to stock up.
You will have a long chat with the Kondo, and then, as is almost always the way with Ryoma after he has a conversation with anyone, you will duel him. This will likely be the toughest boss you've fought up to this point, so get ready for a tussle.
Boss Fight: Kondo Isami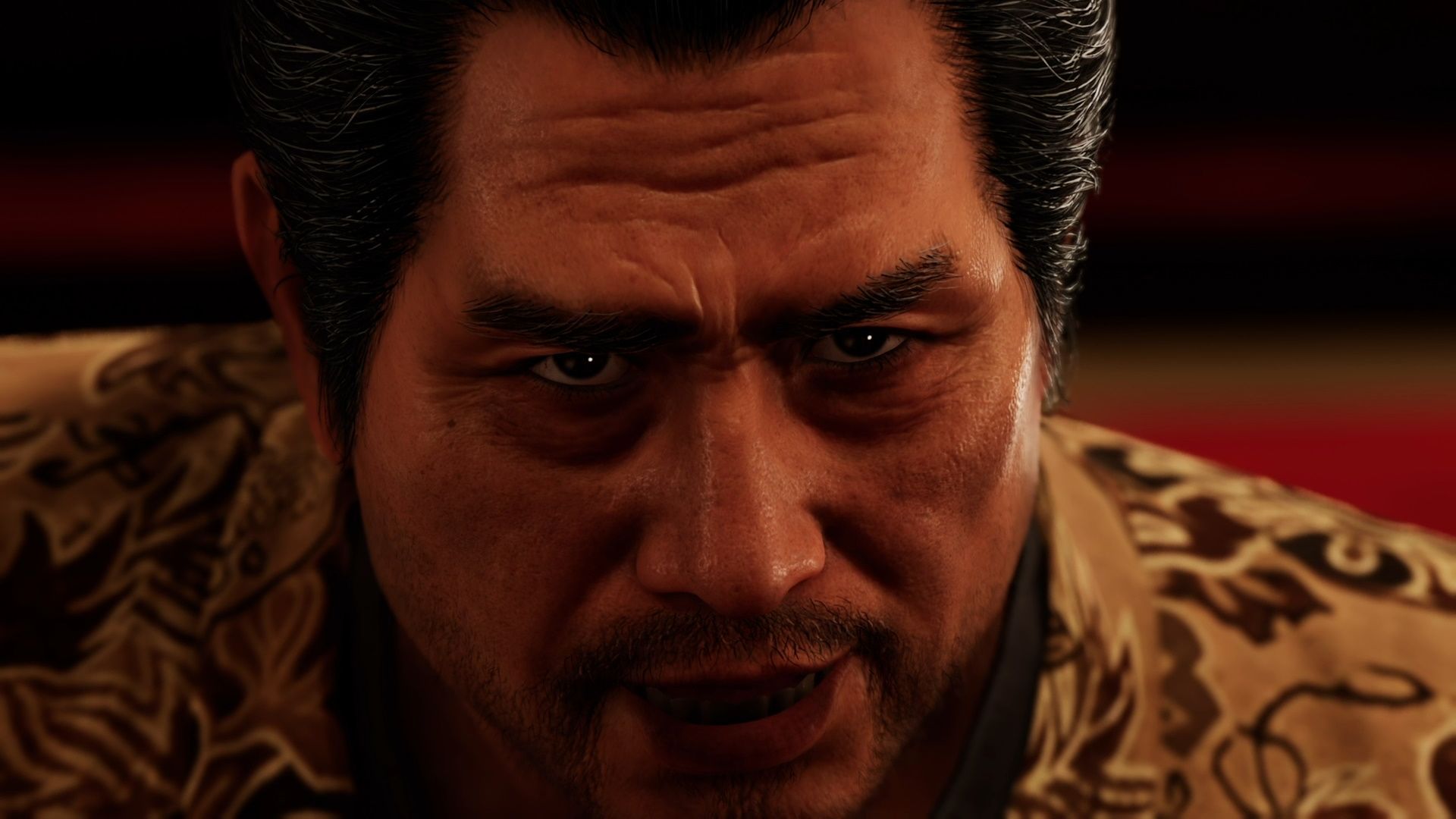 None of the other individual duals you will have engaged in up to this point will compare to Kondo. He has a number of tricky moves, and he hits extremely hard. While we often recommend using the parry in these boss battles, it can actually be a little tricky to parry Kondo. While it is possible, we recommend sticking with blocking and evading.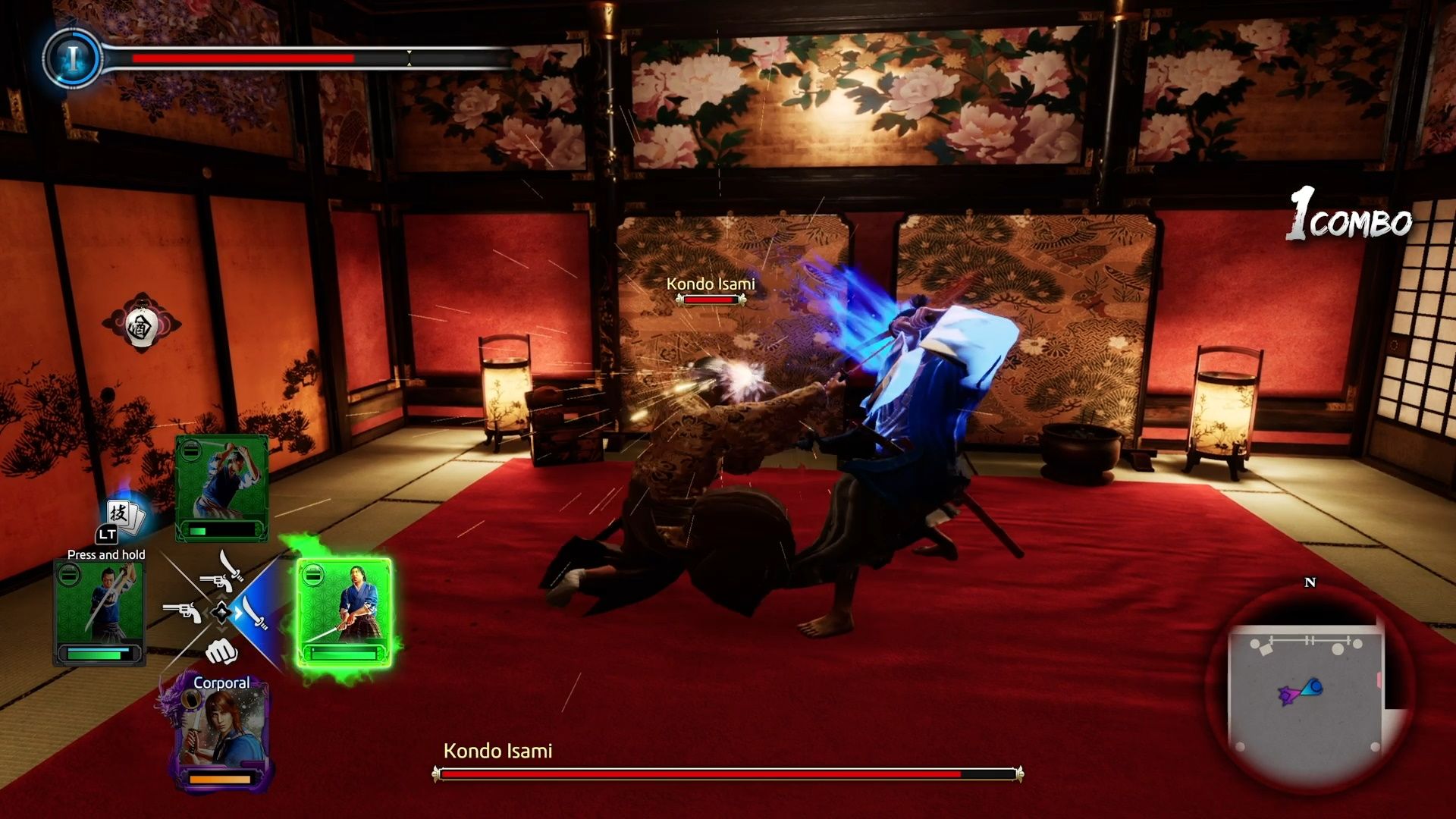 While blocking is a necessity in this fight, it is important to note that Kondo has a number of attacks that will break your guard. So, you are going to need to prepare to re-guard quite frequently. This will be the case with one of his lunging combos (he has two that he will use), as well as his elaborate sequence of sword swipes that will also break your guard.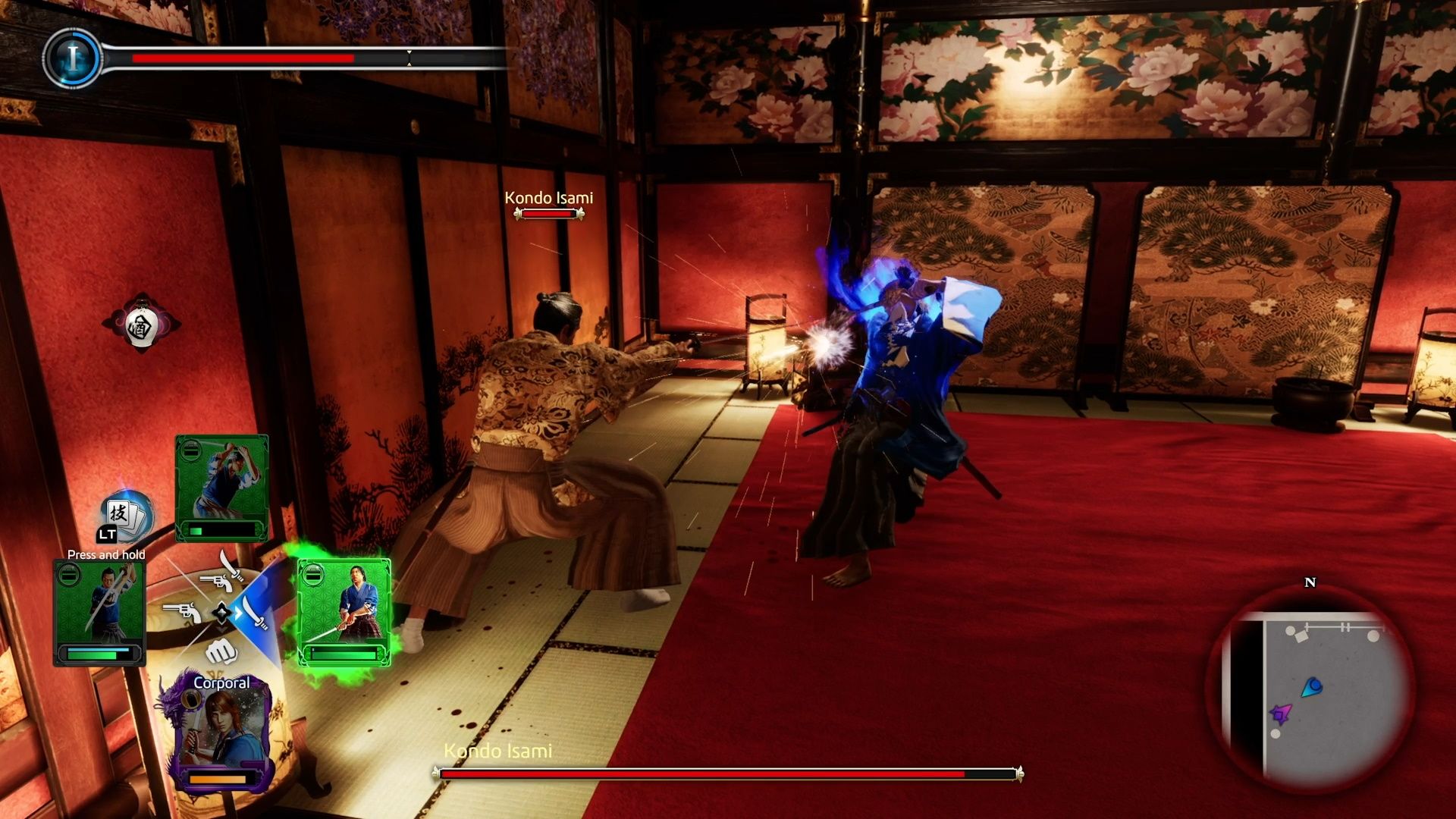 When Kondo is in his default stance (this is when he has two hands on his sword's hilt), he will press you with a number of lunging attacks. One of them is three lunging attacks that do not To install break your guard. He will be vulnerable for a short while after the third of these. The other, as we mentioned earlier, will break your guard. In fact, it will break through your guard twice. So, get ready to re-guard. These lunging attacks are Easy parries, but if you decide to go down this route, make sure you switch out of the Brawler style when he switches his stance and prepares his charge attack.
It is easy to tell the difference between the thrusting combo that staggers, and the thrusting combo that does not. The version of his thrust attack that staggers has Kondo get very low to the ground, thrusting upward from a crouch. The non-staggering version will be performed from a standing position.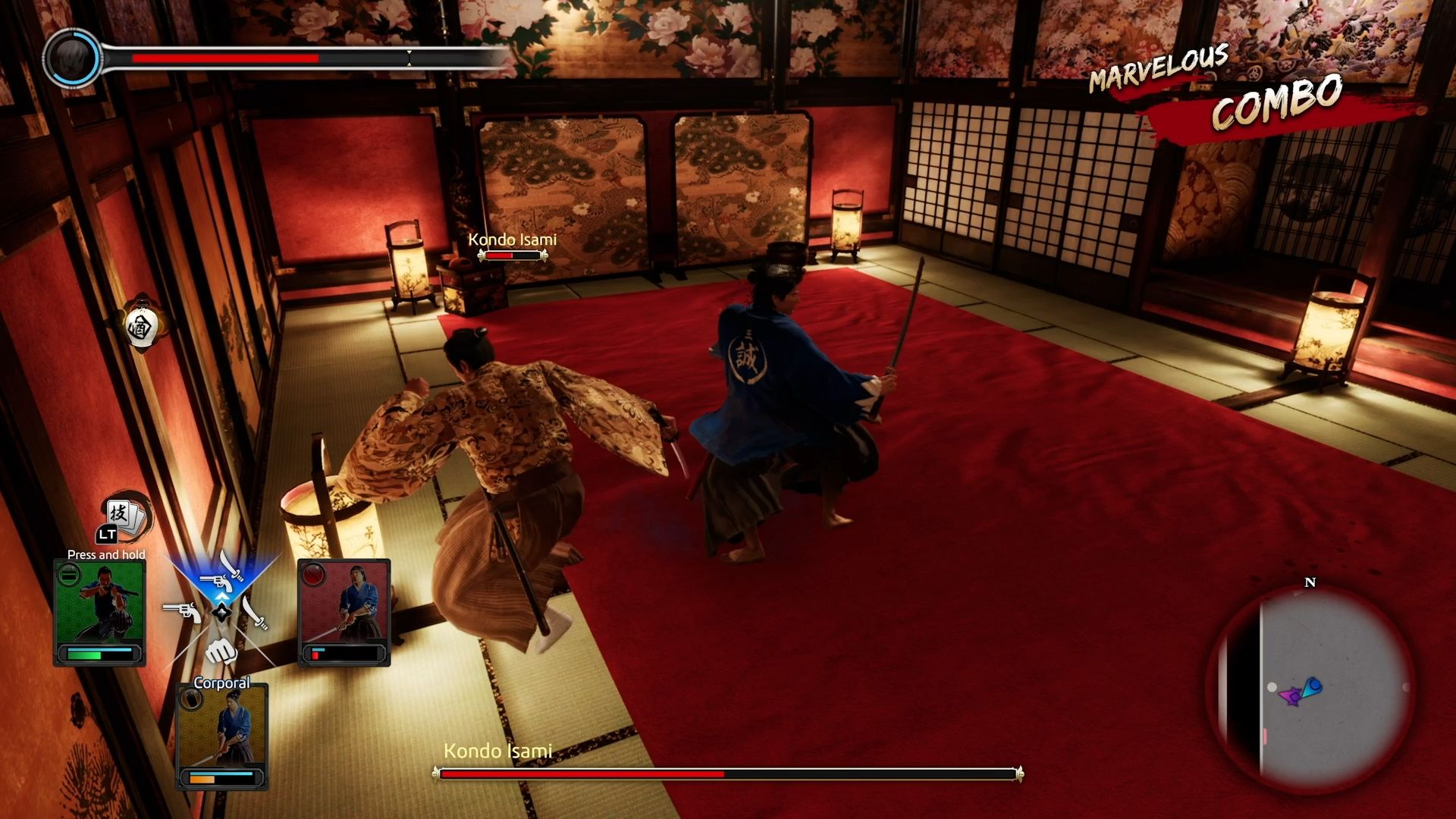 A better way to deal with these lunging attacks is to use the Wild Dancer's dodge to circle Kondo, and then attack him in the back. However, since there are times when you will want to have your guard available, this won't always be an option.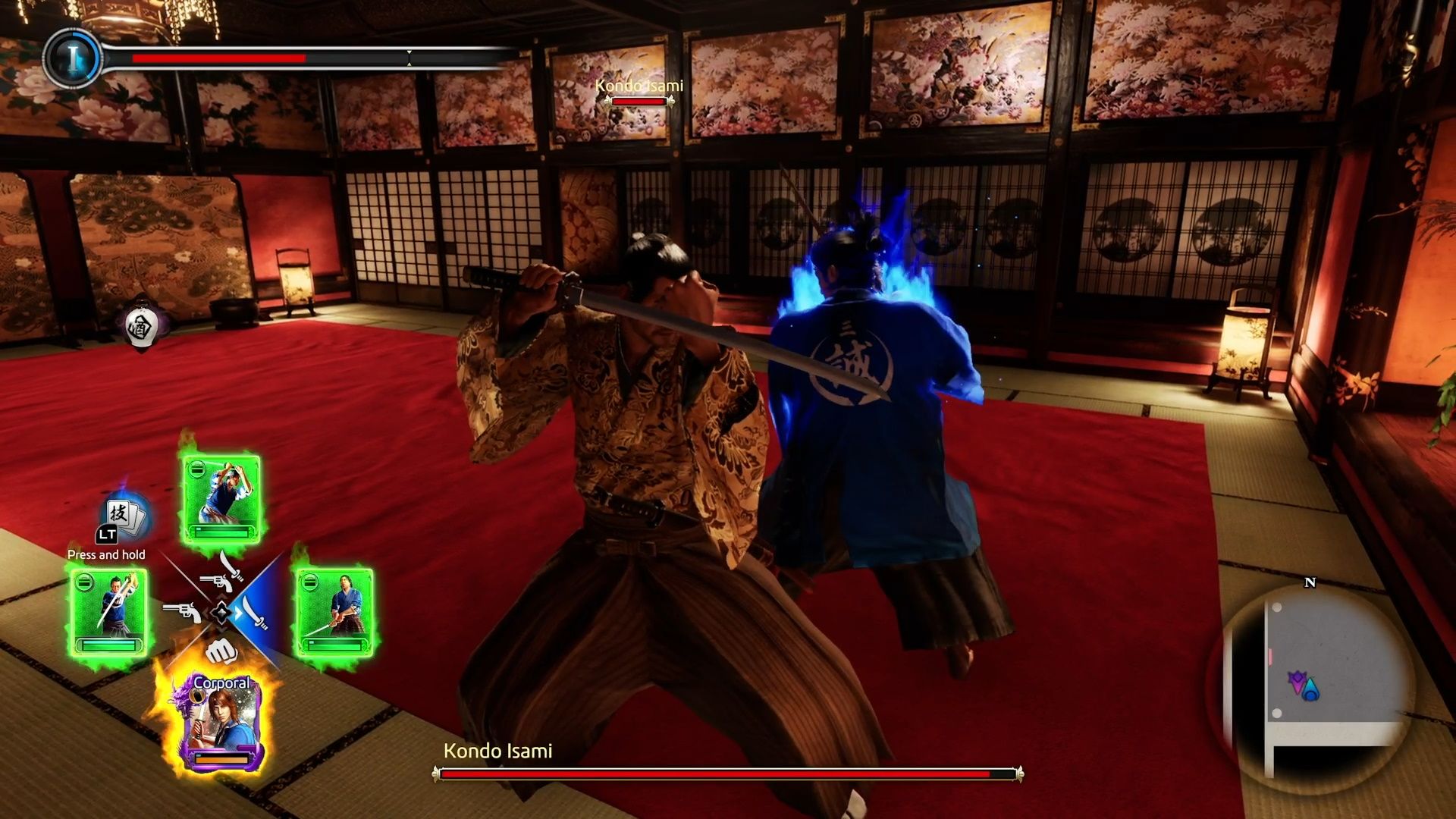 One of Kondo's most obnoxious attacks is his charging shoulder strike. This is one of his go-to moves. Whenever he switches his stance, pressing his sword against his left arm, he is preparing to use this charging attack. If you block the first hit, then he will be stopped in his tracks, you can then slash him a few times. On the other hand, if he lands his first attack, he will follow up with another strike followed by a big slash.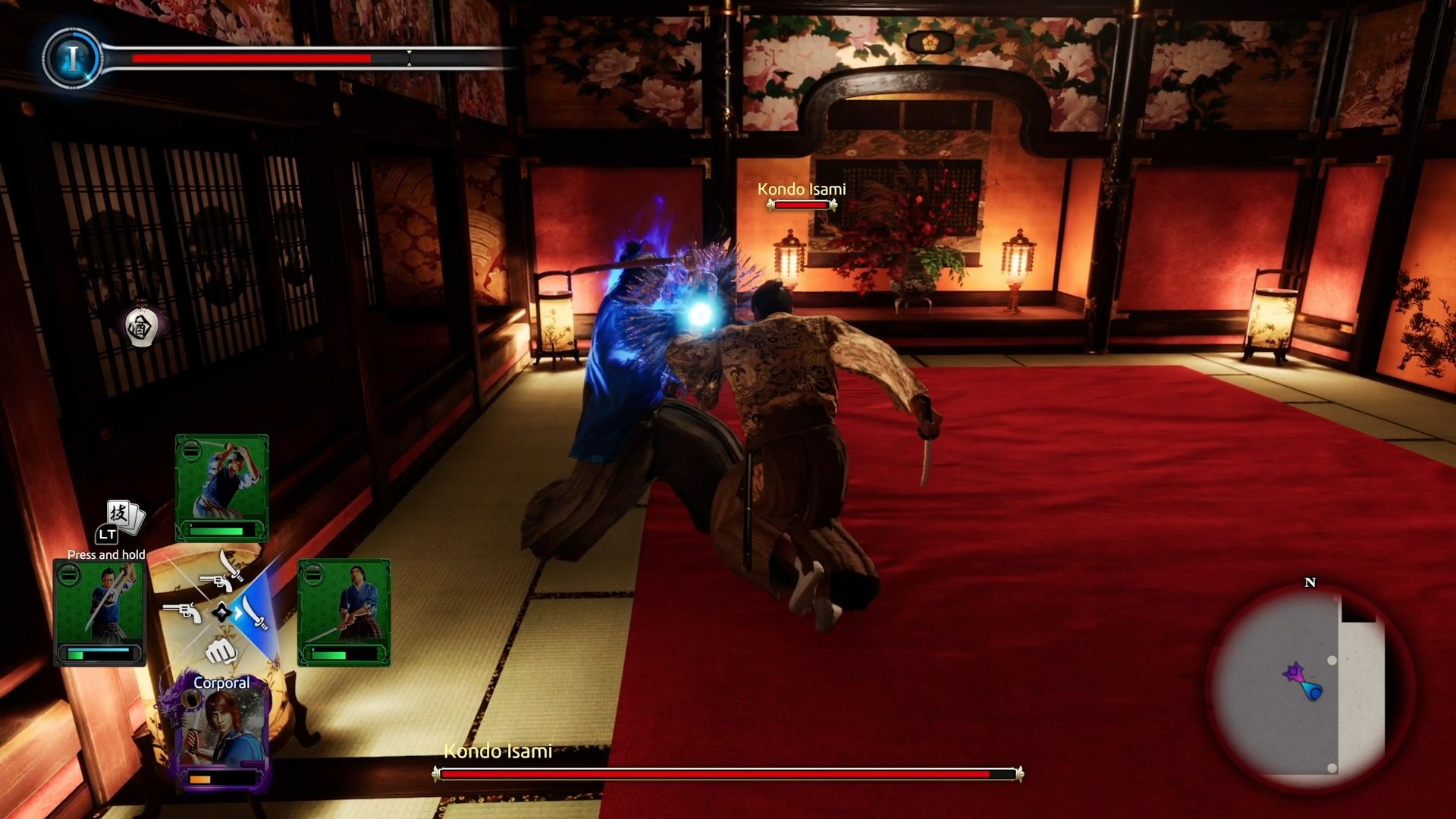 You will be able to get your guard up in time to stop these follow-up attacks if you are in your Swordsman stance. Which is good, as the final slash is what does most of the damage. You can parry this charge attack, but you need to have the parry ready very early, and the timing can be wonky. It probably isn't worth the risk. The Wild Dancer style is the best way to handle the charge attack, as you can circle him and land a combo on his back.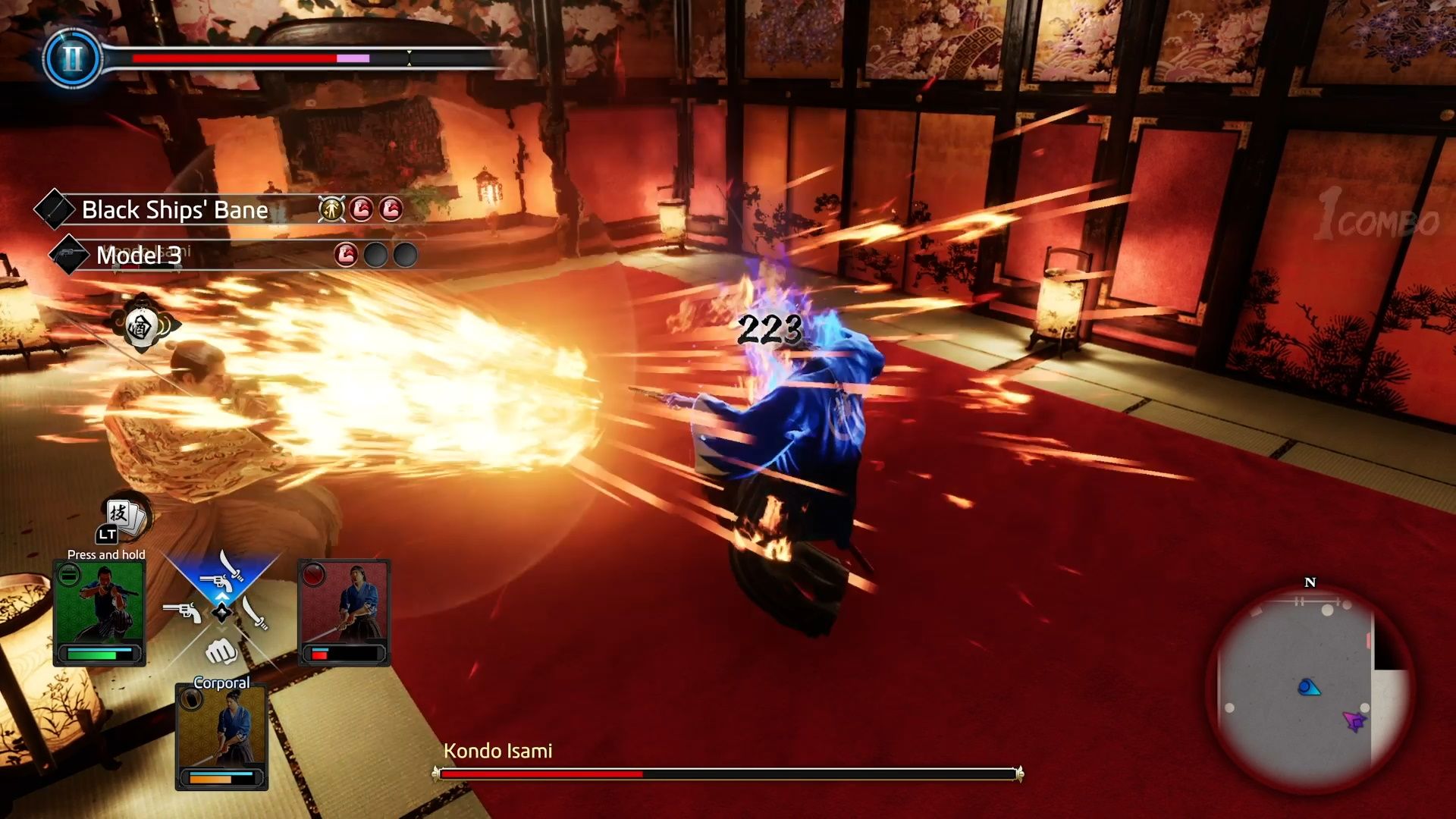 Finally, once you have gotten Kondo down below half-health, he will start to fire three giant fireballs at you. You can dodge them, but they track, and the room is pretty small, so more often than not you will end up getting hit if you try to evade them. However, you can guard them. These projectiles do MASSIVE damage, so you need to make guarding them a priority. For this reason alone, we strongly recommend sticking to the Swordsman stance once he transitions into his second phase.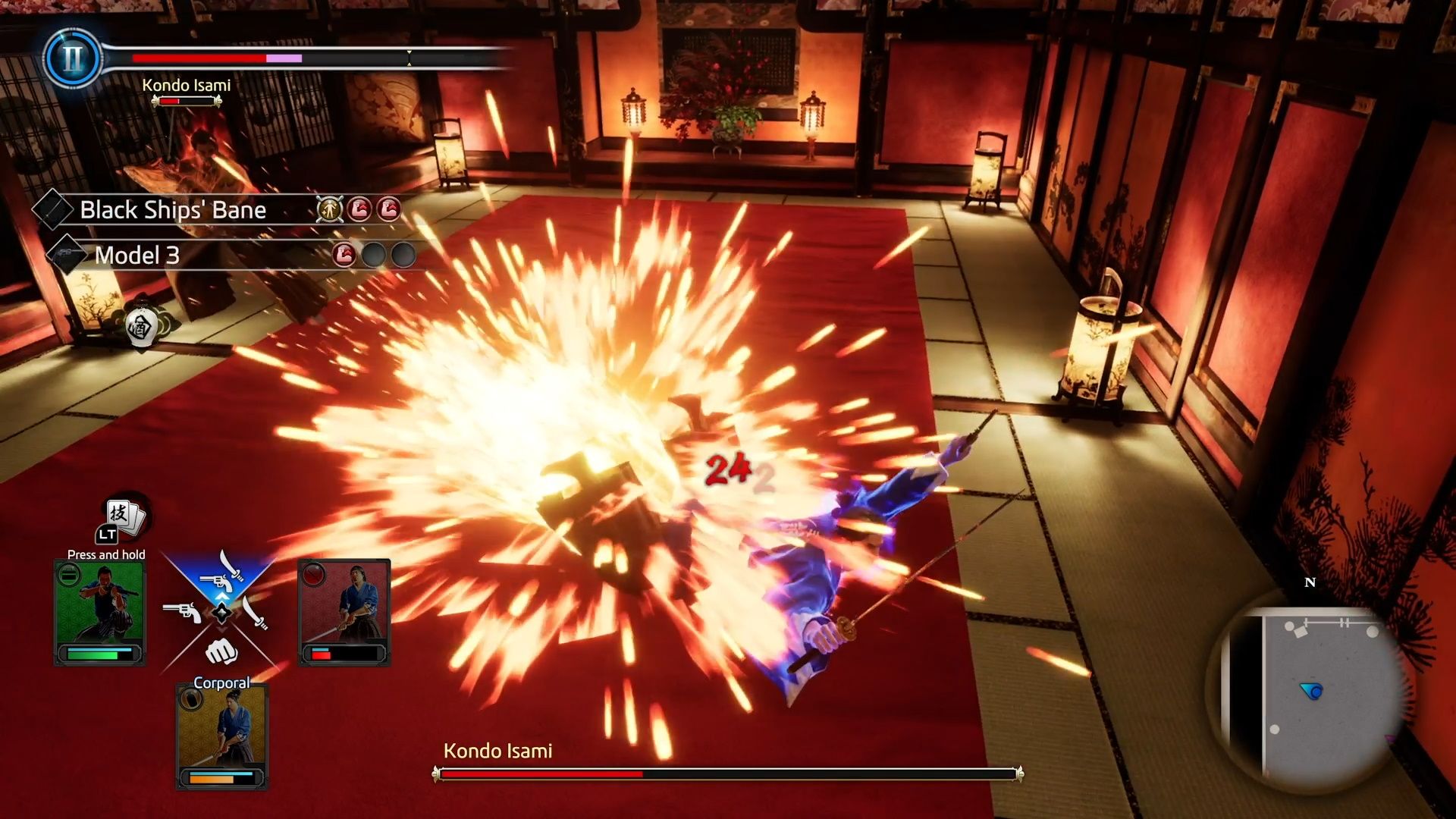 Kondo's fireballs can also hit you while you are on the ground. Seriously, these things are super dangerous.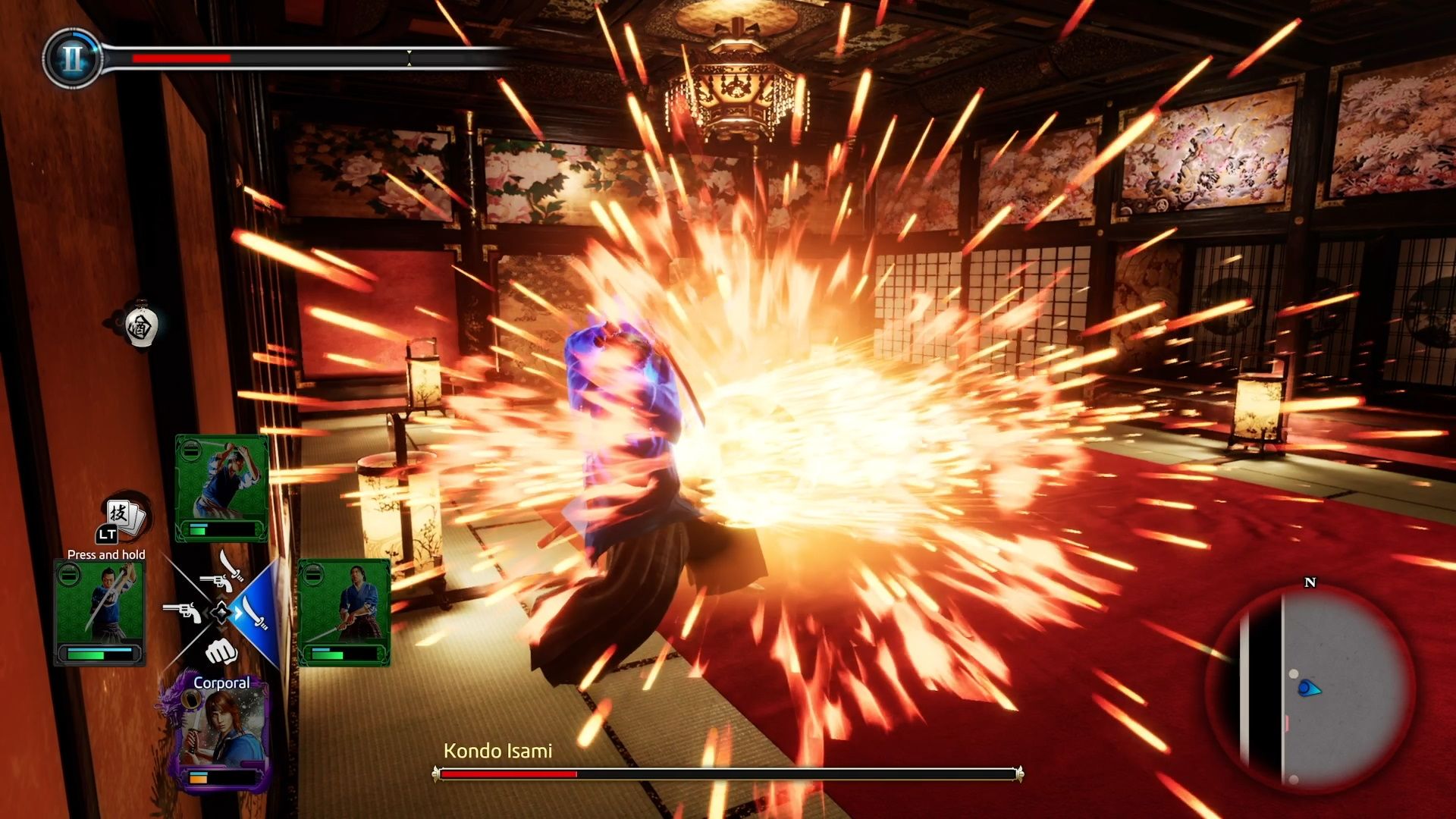 To summarize, your best bet for fighting Kondo is to use the Wild Dancer style for his first phasedodging him when he charges you and attacking his back. Then, switch to your Swordsman stance in the second phase so that you always have access to your block. Of course, you can utilize stance switching to have the best of both worlds during the second phase, but given how dangerous those projectiles are, we don't think it's worth the risk.
You will likely find that this battle isn't just hard because Kondo has powerful attacks, but because you can't see anything for half of the battle due to the camera not working well in tight spaces. Try to fight Kondo in the center of the room, and stay away from the walls. so that you can avoid going blind throughout this tough encounter.
Once you have beaten Kondo, all that will be left is to sit back and enjoy the cutscenes.
Next: Like A Dragon: Ishin – Complete Guide To Fushimi Substories