Ramya Pandian says that she is an actor who takes inspiration from everything she watches and comes across. "When I watch '80s films, I get inspired by actors like Saritha ma'am and Revathi ma'am. And when I watched the recently-released AyaliI was so moved by what that little girl Abi Nakshatra did." So, when she got to know that she was about to act with a veteran like Mammootty, who has a staggering 400+ films to his name, in Lijo Jose Pellissery's recent sensation Nanpakal Nerathu MayakkamSaying yes was a no-brainer.
It was during the shoot of her upcoming Sony LIV web series Accidental Farmer & Co. that Lijo called Ramya for Nanpakal, "I didn't understand why he wanted to cast me. After the film, I asked him and he said that I just fit the role perfectly."
In the film, Ramya plays Poongulazhi, a Tamil single mother whose husband Sundaram disappeared mysteriously two years ago. Just when things seem normal again, her life is jolted when a Malayali man named James (Mammootty) enters her home, claims to be her husband, and behaves as if it was just another day.
Meanwhile, for James's wife Sally, played by Ramya Suvi, the fear is about losing her husband forever. There are many such dualities in Nanpakal, "In fact, at the International Film Festival of Kerala premiere, the crowd applauded the shot in which you see both wives in the same frame — where Poongulazhi is near the window inside the house and Sally, outside on the adjacent house's thinnai, and their children enter the frame at the same time.
The shot in Nanpakal Nerathu Mayakkam that Ramya says got a huge applause from the audience during the film's IFFK premiere. Photo Credit: Netflix
Nanpakal isn't just about what these two characters are experiencing, but more about James/Sundaram, the innate bizarreness of the event, and the confusion it causes. This means that although her character is pivotal, Ramya gets only a handful of scenes. "It seemed like an important character when I heard the story, but I had my doubts while shooting. After I shared my concerns with the direction team, Lijo sir spoke to me and said 'Ramya, you will be seen prominently in the movie and you will create an impact.' I didn't question him after that." But after she saw the respect and love that Lijo gets, Ramya says she wondered if it was right to ask him that. "Mammootty sir spoke to me after the film and said, 'I know you felt that way, but if you see the film, you will know the impact your character created'. That was true.
Nanpakal, she says, was one of those films that feels different on paper, during the shoot, and on screen. The very style with which Lijo shot the film was unusual for Ramya. "The are only two close-up shots in the film and both of them are for Mammootty sir. They didn't tell me this initially and I kept thinking about this." And like Ramya, even the veteran had not realized initially that this is what the team were going for. "He asked for a close-up in the scene where Sundaram gets emotional while eating and only then did I realize that they didn't take any close-ups for even him. And the team explained the style," she says.
In Accidental Farmer & Co., which is headlined by Vaibhav Reddy and is set to release this week, Ramya once again plays a young rural wife to a man whose life changes when he inherits a piece of land and realizes that marijuana grows in it. "It's a quirky script and is completely in contrast to whatever I have done till now," she says, while also reminiscing the experience of working with co-actors Vaibhav, Badava Gopi, and Vinodhini Vaidyanathan. "While all the characters in the series are innocent, my character becomes a voice of consciousness to them," she informs.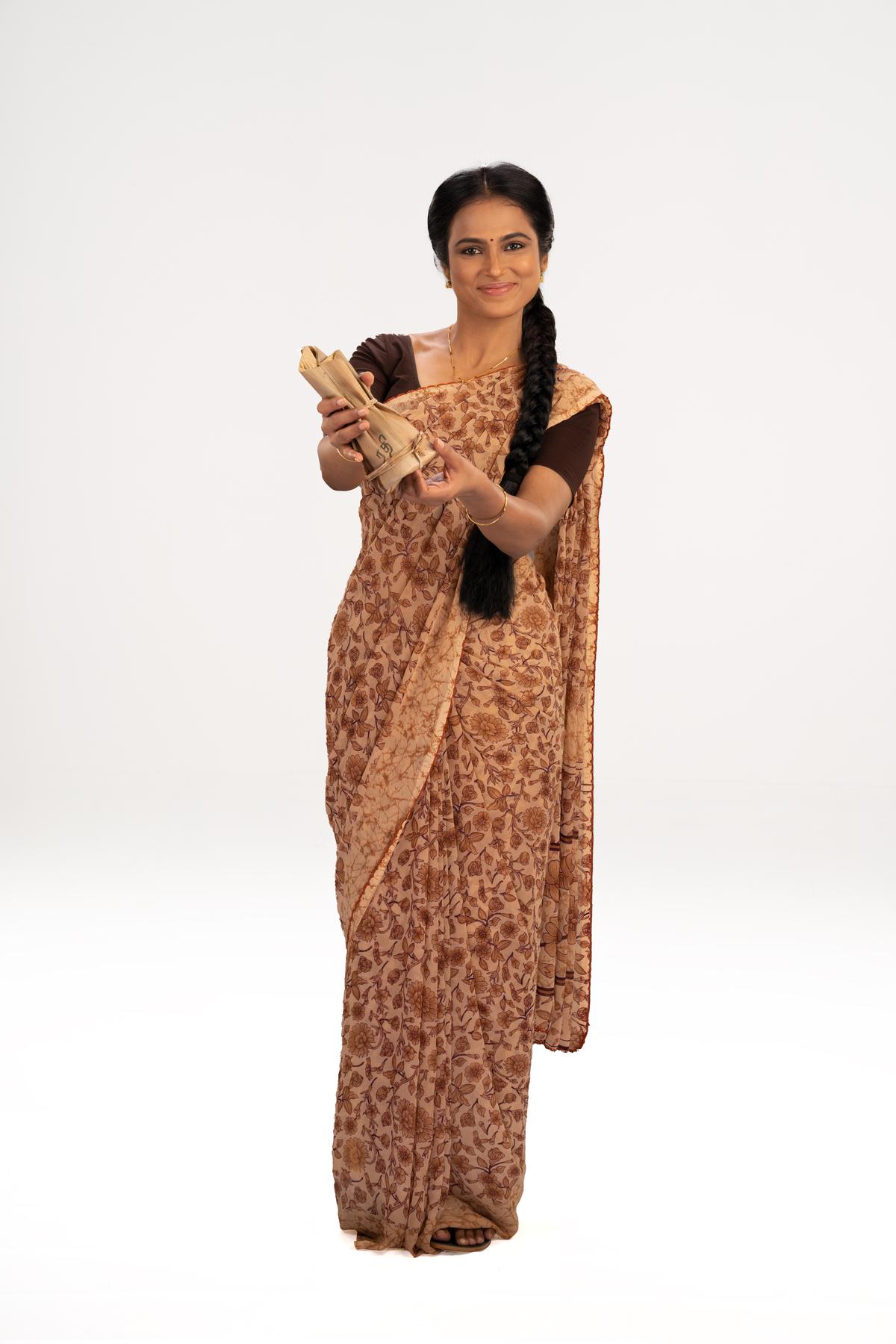 Ramya in a still from 'Accidental Farmer & Co.' , Photo Credit: Special Arrangement
In many of her films, including the above-mentioned film and series, Ramya has got the opportunity to shoot outdoors — something that most city-based actors crave. "Who wouldn't like to just look at green fields and clear skies?" she says while informing us that she grew up in the suburbs and that her parents are from Thenkasi and Thirunelveli. But shooting a film has its own challenges for the crew, she reminds. "In Raame Aandalum Raavane Aandalum, I had to toil under the hot sun and suffered sunburn. But the happiness that the end result gives makes the efforts worth it."
The rural setting isn't the only recurring aspect of her filmography. There is a shadow that has been looming large over Ramya since her break-out performance in 2016's Joker: people can't stop asking her why almost all of her roles seem similar. The similarities, of course, stop with the look and setting; Each of these roles is distinct in terms of narrative and character, and they demand differently from the actor. Ramya says that she doesn't blame them entirely, "because I am not giving some five to 10 films every year; the releases are few and hence people are seeing the similarities."
Ramya is choosy in her scripts for a reason. She says that even if she gets another village-based role, she will do it if it's unavoidable like Nanpakal, "I accept a project if I find good reason to do so. It can be the story, the director, the actor, or it should be one of those films that I would like to look back on in the future and feel proud."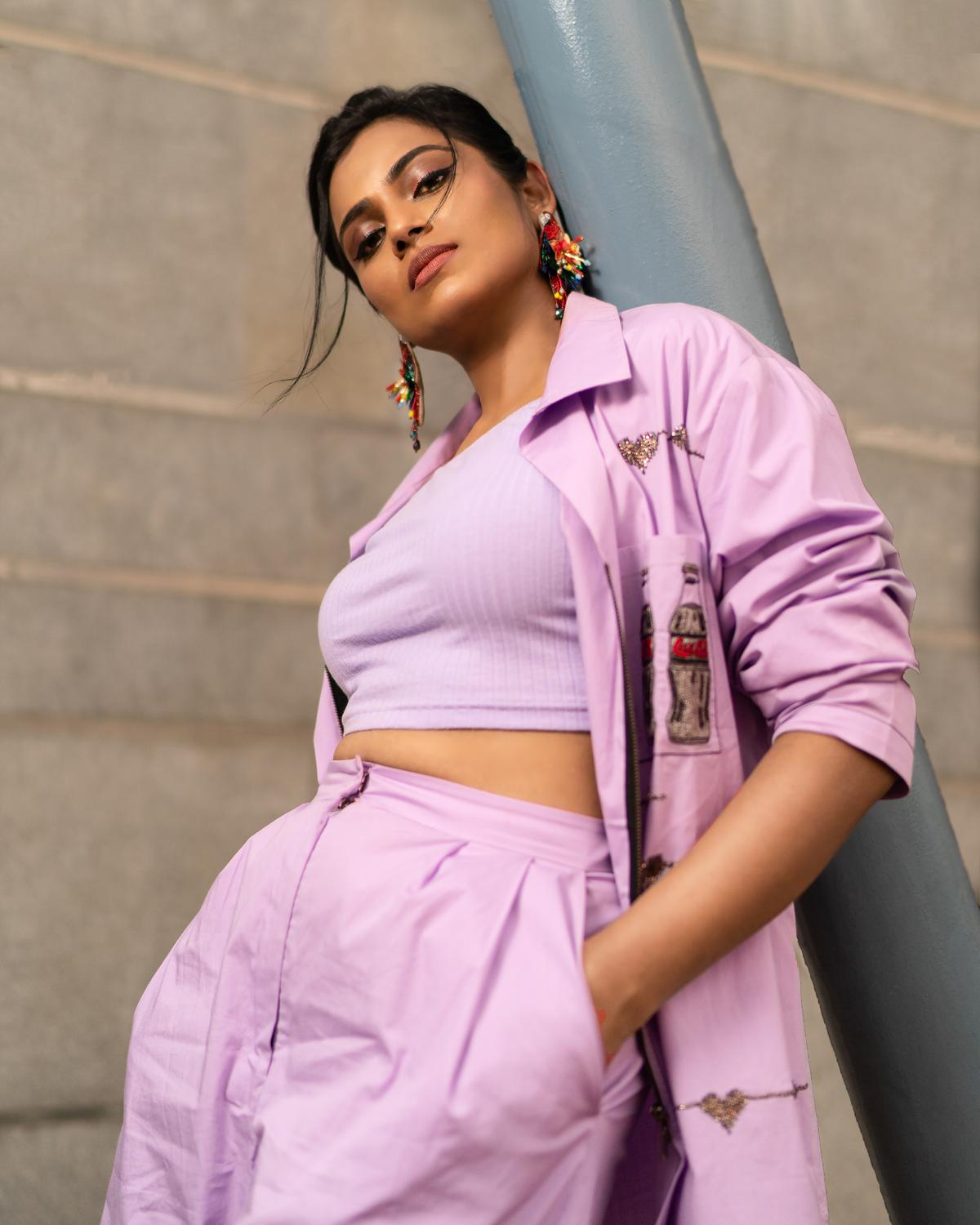 Ramya Pandian | Photo Credit: Special Arrangement
But she is craving a good commercial break that can break that typecast, not because of the critics but to be versatile. "That will change it all for me." She has no qualms in saying that she needs to play it safe until then as a misstep can be too detrimental. "I might even disappear since I don't have a backup or someone to bring me back to the industry."
post her Big Boss During the stint, Ramya said that she prioritizes quality over quantity. In the entertainment industry, however, people speak of this pressure to do more 'to stay relevant' but Ramya has not let such ideas affect her. "I am clear about what I am and where I want to go. I still prioritize quality over quantity because I have a long-term vision and achieving that means that I have to be careful now," she says.
She is hopeful that the big commercial break is just around the corner. "Some interesting projects are coming my way now. Things will change.